What to Wear to a Dinner Party?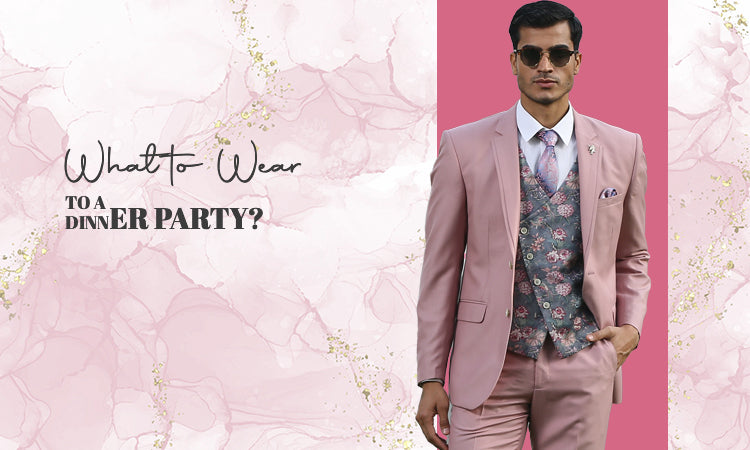 If you have a dinner party coming up and you are worried about what to wear, then let us tell you that it is not as hard as you think. The idea of going to a party should be exciting, not confusing. We present here the best style ideas for men. The foremost thing to do is knowing what the dress code is. Is it smart casual, casual, suit, black, or something else? Also, find out where the party will be held. It will be completely different outfits if the occasion is held at a restaurant/hotel or at the home of your friend. Knowing this in advance will help you in deciding the right outfit.
We suggest here the top men's outfits if you are going to attend a dinner party anytime soon.
Casual (Jeans and T-Shirt)
If you are attending a dinner party at a friend's house, then the most casual and ideal of all outfits is jeans and a t-shirt. This look reflects your relaxed vibes and thus, you can be absolutely comfortable while enjoying yourself. A good pair of jeans is required for this casual look. Team up this with a smart plain t-shirt. For cooler days, you can create a layered look with a casual jumper or an undone shirt.
Smart Casual (Chinos and Shirt)
Giving men an incredible alternative for jeans, chinos have taken the fashion industry by storm. Extremely comfortable, chinos are available in a wide variety of colors and styles. The season when the party is held will decide the color of chinos you should wear. Nude stone-colored chinos are quite popular in the spring-summer while dark navy and green are perfect for autumn-winter. A great benefit of varied styles and colors of chinos is that one can wear them pretty much with any shirt. A light color shirt, light blue or white perfectly goes with darker chinos. This smart casual outfit will offer you a sharp look at a dinner party.  
Smart (Suit Jacket and Jeans)
A perfect middle ground is created when you combine both the casual and formal look. This look will give you a feeling of a comfort zone. Also, if you are not sure about the dress code, then this look will be a lifesaver for sure. You can team your jeans with a suit jacket or blazer, whichever you like more. Wear a light-colored shirt (either light blue or white) with jeans and a pair of stylish shoes or brogues. Make sure that your shoes don't let the outfit down.
Men Dinner Suit
A crisp dinner suit is the best option if you want to play it safe. Your footwear will impact how formal you want your outfit to look. Wear casual shoes like loafers if you are opting for a smart-casual style with your dinner suit.
Buy the trendiest and the
most stylish dinner suits for men from Bonsoir
! Just scroll through hundreds of choices in the comfort of your room as it offers an eclectic array of attires online, ensuring timely delivery. If you have a dinner party coming up, then choose from a wide variety of its smart casual suits.  You are sure to find the best men's clothing here. Whether you are looking for the best dress for an informal occasion or a traditional ceremony, all the offerings will suit your style and personality. Located in Noida, Bonsoir is counted among the best and the coolest online wear store offering worldwide shipping for its men dinner suits.