The guide for Indian outfits for your wedding day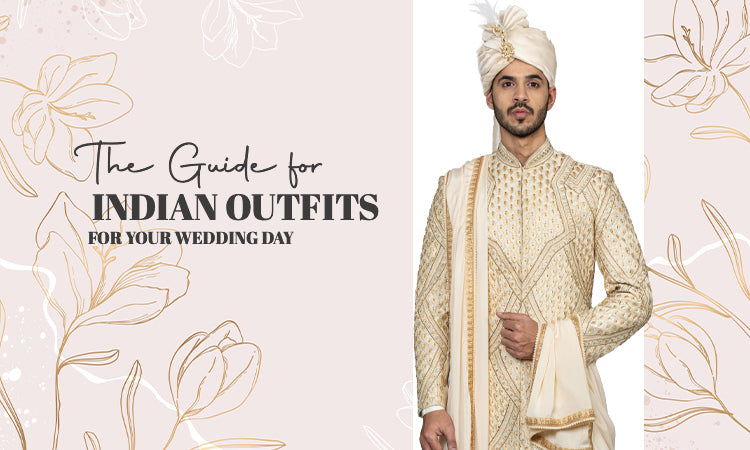 A person's wedding is the most fortunate occasion in their life, irrespective of their gender. While the choice of women's wedding wear has always been available, options for men have also increased over the last few years. From custom-made sherwanis to majestic bandhgalas, the choices of wedding dresses for men are abundant. Amongst many options available in the market, Sherwanis still tops the list, they are the most popular choice. The origins of this timeless attire can be seen back in the aristocrats of Turkey and Persia used to wear it as their court dress. But before you set out to shop for your wedding altogether, you must understand the theme of your wedding.
Wedding Attire for men
Kurta Jacket: Kurta jackets epitomize style and timelessness. Commonly mentioned as Nehru Jacket, you can think of it as a blend between a sleek western jacket and achkan. And when it comes to men's traditional fashion, the Nehru jacket complements a kurta pyjama, dhoti with kurta, or even a short kurta quite effortlessly. Kurta jackets can instantly add elegance to the wearer.
Indo-Western: The concept of Indo-Western dresses for men is certainly not new but this is one of the trending options to consider for traditional functions. These collections are the ideal choice for those looking to combine Indian ethnicity and sophisticated western outfit to create the perfect festive touch.
Sherwani: The classy traditional wear for men. The Persian cape was transformed into the Indian Angrakha before taking on various European accents. Later, it appeared as the classic sherwani featuring buttons down on the front. Royal and noble Mughals initially wore sherwanis in northern regions during the 19th century in British India. Today, sherwanis are exemplary festive and wedding outfits, owing to their popularity as a formal group. A sherwani adds to man's classiness, more so when tailored from rich fabrics, and adorned with embroidered ornaments.
Blazers and Suits: The saga of classy suits for men dates back to the tailored standard of dressing introduced in the 17th century by the English king Charles II. Suits play an important role in comfortable attire at wedding functions. What's more, the classic suit set became sleek and minimalistic in the process.
Accessories For your Big day
Juti: Juti is a traditional slip-on shoe that is widely popular in northern India among both men and women. For men, juti uplifts the outfit of the day and tunes your attire according to wedding functions. it balances the elegance of this traditional footwear style and comfort.
Brooch: A brooch is an ancient decorative jewellery piece. It is worn as a badge to show the wearer's outstanding personality and pride. This brilliant ornament is pinned onto the left side of the garment, just above the heart. This decorative pin or clasp is a popular piece of jewellery for men to date. When it comes to traditional wear for men at weddings, a wedding brooch is the first accessory a man would pick to go with his attire.
Pocket Square: A pocket square is a designer or coloured square piece of cloth worn and tucked into a blazer or upper pocket of the outfit. Wearing a pocket square gives the notion of a polished sense of taste and ethnicity.