Ultimate Guide to Look Dapper at a Wedding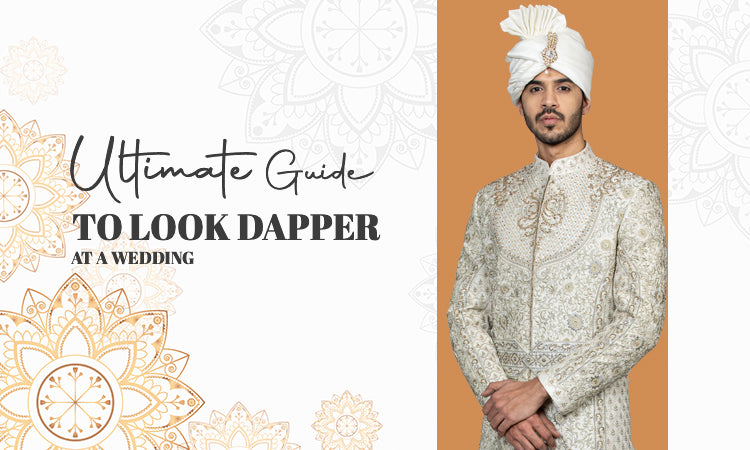 During festive times, the mantra is "fashion first." When shopping for outfits for a wedding, whether yours or a friend's, keep this phrase in mind.
There are a lot of choices for wedding dresses summer suits, and it's imperative to take advantage of them all, but here's a greater understanding of what's out there.
Different Variety of Parties
There are more than three possibilities for a guy to wear an outfit throughout a wedding celebration; there are several choices for each ritual stage.
Engagement Ceremony
The engagement, which is the first part of the celebration, can be observed in a Kurta. The Nehru coat is a stylish option; however, it depends on the colour accent.
It's fashionable, traditional, and exquisite all at once. Change it up by experimenting with other designs or opposing colours and have fun with it.
Haldi Ceremony
As is customary, you should dress in yellow for something like the Haldi. This isn't merely a matter of etiquette; it prevents the stains from being too obvious.
Don't bother getting dressed up far too much because there will be a lot of mess. A kurta with pyjamas, Patiala, or a dhoti is all options.
Although you would not have to go all out, you may certainly recognise the event with some finer stitching or patterns.
Wedding Procession
What is more significant than a Sherwani for the Barat, who needs everything elegant, fluid, and simple to dance around in?
It has a range of designs, colours, and mixtures to select from, and it provides just the right amount of elegance and rich royalty for such a special occasion.
Key Factors to Consider
Irrespective of what you're wearing, there are a few things to consider when selecting an outfit.
Whether you're wearing a Western or Indian wedding dress, the fabric you are using is crucial for various reasons. To begin with, it determines your feeling of convenience. You're going to grill if you're donning velvety clothing to an outdoor wedding in the middle of July.
Second, the fabric you choose affects the overall aesthetic of the clothing. The correct material can bring out your remarkable features and accentuate your cut.
It's critical to find anything which suits and matches your body form. In your big day clothing, highlight your excellent features.
While there's nothing wrong with buying anything off the rack, it's ideal for taking it to a sewist for those required alterations. It's also possible to make it much more suitable for you by adjusting the shape and fitting only a smidgeon.
Accessories are not just for women. You'll need to have the right accessories for your whole appearance to come whole. Make sure to accessorise, whether with the proper headwear or a wristwatch, to go with your outfit.
Above all, you must be at ease in anything you choose to wear. If you're not confident in it, wearing a suit is a bad idea. There are numerous possibilities from which to choose. While some ceremonies require a specific style, there's no damage in switching things up.
Wrapping Up
When the big day arrives, you'll be ready to dazzle the audience with your stylish attire. You'll be the finest dressed person on the street if you consider comfort, elegance, and the occasion as your driving factors to choose an outfit.