Wardrobe Revamp: Men's Ethnic Wear Collection For This Festive Season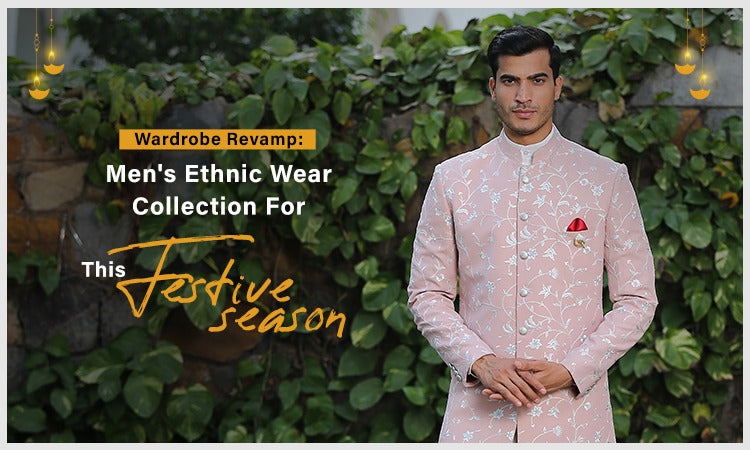 Have you been feeling like there's nothing new and exciting waiting for you in your wardrobe?
The festive season is the best time and your chance to revamp your wardrobe completely. Especially if you're planning to go for something ethnic. In the ever-changing industry of men's fashion, looking through all options and outfit ideas becomes very important.
Looking forward to the festive season, it's time to work out the best outfits and buy just the right one for you. Let's get creative and take you through some unexplored yet game-changing ethnic wear outfit ideas for men.
Kurta Sets
Pick an embroidered kurta in any colour you like and pair it with a matching loose bottom. The embroidered Kurta is bound to give off a festive vibe. This simple and easy to curate outfit is extremely comfortable and runs along the lines of tradition in the best way possible.
This outfit can have many variations, like replacing the bottom with a dhoti or adding a jacket. Explore and understand what's best for you.
Minimalist Sherwani
The moment you hear sherwani, you think of a groom at a big fat Indian wedding. However, Sherwanis can be worn otherwise, too. The colour and design of the sherwani have a great deal to say about the occasion. For instance, colours like ivory white or royal blue are suitable for the festive season.
Sherwanis are known for turning all heads towards you. Unique in their sense, they are elegant. If you're someone who has always wanted to wear a Sherwani, this is your sign to buy one.
Cowl Kurta with Churidar Bottom
Cowl Kurtas are the newest fashion hype in the men's fashion industry. Liked by designers and buyers alike, a cowl kurta will make your outfit stand out from the crowd. Paired with a churidar in contrast to the colour of the Kurta, this piece of couture is one of its kind.
A couple of accessories like beaded bracelets can be added to complete this outfit.
Nehru Jacket
The one that's here to stay, the Nehru Jacket, never goes out of fashion. It has been on men's top fashion picks for a long time. You can pair a plain, unicolour kurta with a printed or embroidered Nehru jacket. The outfit matches the perfect definition of traditional and is loved by all alike.
The Kurta and jacket can further be paired with a dhoti or straight pants for bottoms. The Nehru Jackets also saves you the trouble of looking for accessories and gives a complete look in itself.
Summing Up
Classy is defined by traditional. As dynamic as fashion is, men's fashion in India has put plenty of designs and options forward in the ethnic category. To adorn you this festive season, we bring forth ideas to fill your wardrobe with the best ethnic wear options.
This festive season, dress as you've never before!