Designer Kurta Sets Ideas For Men To Wear This Diwali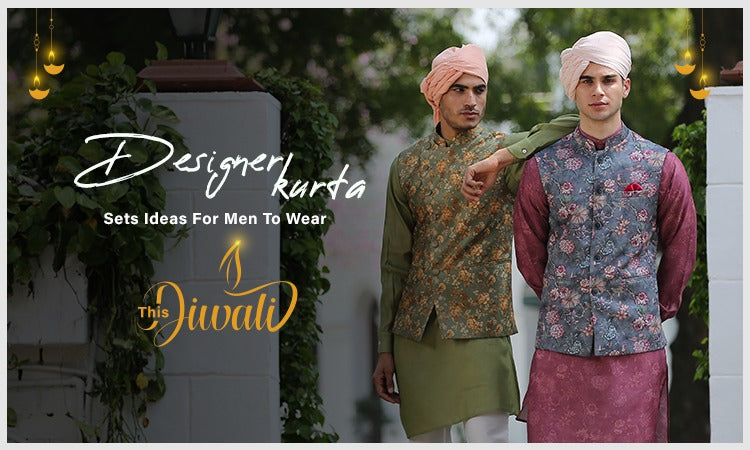 Historically, women's fashion has been given much more importance and meaning than men's fashion. However, it is important to look at how men's fashion has evolved over the years and is now a flourishing industry in itself.
Looking at the Diwali season ahead, as most men are in a stick about their outfits, it's time to get creative in your approach. There's no better festival than Diwali to channel your energy towards creating the best ethnic outfit for yourself.
When you think about Diwali, do you only think about a plain kurta styled with bland trousers? It's time to take designing into your hands. Read on if you want to explore the best options for Men's Designer Kurta Sets for this Diwali season!
Own the Look of Dhoti Kurta Sets
When we talk about creativity, pairing the Kurta with a Dhoti should be the first thing on your list. And when it comes to Kurtas, there are hundreds of options available in the market. However, we'd suggest you pick a printed kurta to adorn over a plain, unicolor dhoti from the design front.
The best part about a printed Kurta is that you wouldn't have to accessorize it as there will already be a splash of colors. You can complete this stunner look with sandals or Kohlapuri chappal.
Nehru Jacket to your Regular Kurta Set
Nehru jackets have stayed true to men for ages now. They beautify everything they're worn upon. If you want to look chic yet simple, a Nehru jacket should be your go-to. You can pair a printed Nehru Jacket with a plain kurta and dhoti set.
Be the head turner this Diwali by pairing this classy outfit with brown mules.
Try Out Long Jacket, Kurta, and Straight Pants
If you're spending time and effort choosing the right outfit, don't let this option go unexplored. Pairing a plain kurta with plain white/ black straight pants and adding a floral printed jacket creates the perfect combination of comfort and royalty. Lastly, don't forget to add a pair of minimalistic footwear to complete the look.
Short Kurta and Straight Pants
If you're someone who doesn't want to go all in the with the whole 'ethnic' for Diwali, here's what you can do. Pick a short, printed kurta and style it with dark-colored, preferably black or brown pants. This look, in essence, is extremely mellow and prioritizes your comfort.
 However, at the same time, this look is super customizable. You can add fancy accessories and classy footwear to complete this look.
Summing Up
With the continuous flourishing of the men's fashion industry, we've seen rising interest in ethnic options. Designer ethnic wear is naturally bound to gain traction. It can be attributed to its sobriety and classy look.
This post gives you the best options to curate your Diwali outfit this festive season.
So, the next time you go out for Diwali shopping, you know exactly what you need.  Happy Diwali to you all!