The Ultimate Guide to Men's Ethnic Wear for Weddings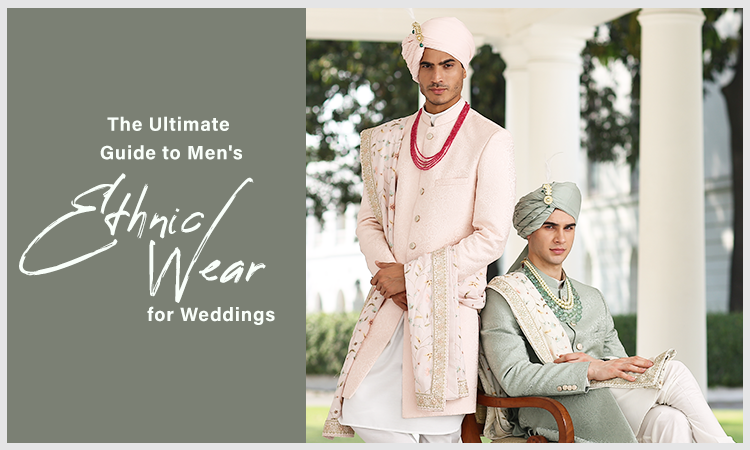 With the wedding season just around the corner, we get all muddled about the right outfit to wear.
Well, if you are a man with the same problems and are tired of wearing those three dark pieces to all the weddings, you have stumbled upon the perfect article! 
This article covers all the flattering outfits you can try this wedding season and flaunt some great looks! Without further ado, let's dive right in.
Men's Ethnic Wear for Weddings
If you think men have limited options to choose from for apparel, you're mistaken. 
There are many options; you just need the right sense of style, fashion, and trends, because you would never want to pick out something outdated, would you? Here are the outfits that you can try the next time you hit a wedding:
Kurta Paired With Churidar
It is all about the basics. If you can rock the basics, you are already a step ahead of others in terms of fashion. Kurtas come in numerous designs from their cuts to the neckline like collared, V-neck, Chinese collar, or even collarless. The detailing can affect the entire outfit. Thus, be mindful of it.
Also, check the lengths according to your preference. An ideal Kurta should always fall a couple of inches below the knee. Alternatively, you can also pair the kurta with a salwar to get that partial "pathani" vibe or a Nehru jacket to add to the look. 
Sherwani
Did you think we would go by without mentioning sherwani in the list of ethnic outfits? Well, that isn't happening.
Sherwanis are must-haves on this list, and you can play around so much with them. Sherwani is a long, slim-fit jacket giving out a masculine look like a kurta, sometimes entirely embroidered. For the perfect sherwani look, pair it with a pair of trousers, dhoti, or dhoti pants.
Western Sherwani look royal if they are embroidered, adorned, or embellished. Additionally, you can always throw in a neckpiece and a shawl to complete the look!
Bandhgala/Jodhpuri Suit
If you feel skeptical about the sherwani or the Kurta look, turn to this one. Not only will they accentuate the overall personality but also look so decently porch! A Bandhgala can be seen in numerous varieties, from fabric to embellishments.
And, of course, the basics never let you down. They will forever rule the stage! So, yes, rely on them whenever!
Final Thoughts
Indeed, men do not have limited options. This article was only a percent of how you can play and mix your outfits to create one for the next wedding.  
You might feel like women have more options, but it is not like that. It is just that the men's apparel is less explored. The next time you get all confused regarding an upcoming event or wedding, refer to this guide and pick any out of the tree, and voila!