Indian Jodhpuri Suit for Men: Top Four Styles of 2021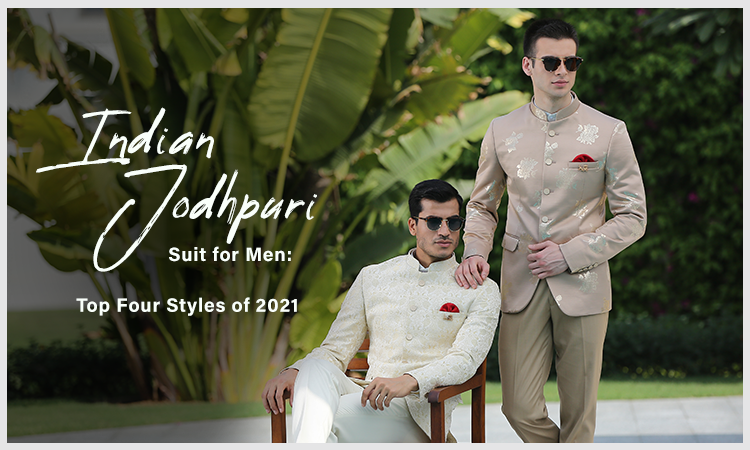 Gone are the days when only women ruled and stayed in the world of fashion and accessories.  Is that hard to believe? Well, take a look at a classy Indian Jodhpuri Suit for men!
It is true that our interaction with the West certainly brought about a fusion of both styles. It would be an understatement to say that the Western amalgamation with our Indian hand-embroidery does wonders.
So, here are the top four styles of 2021 that will make you look like a king in that Indian Jodhpuri Suit!  
Classic Black Jodhpuri Suits
Nothing makes your audience secretly go crazy than see a man in an all-black outfit. While our traditional black Kurtas have always ruled our hearts, it is time to make way for the suits.
A black Jodhpuri Suit will not just make you look classy but also feel that way. It has a royal, high-end look to it that presents you to be a bold personality.
Wear one of these to your next event, and you will know just what it means! 
Printed Jodhpuri Suits
Who said that only the ladies could pull off the printed clothing? With the bold printed Jodhpuri suits, men can step up too!
You know this look is for you if a wedding or a family event is approaching. Along with simple white or black trousers, a floral Jodhpuri Suit will make you shine like nothing else!
Just be sure to match it up with a pocket square of the same colour.  
Designer Jodhpuri
S
uits
A wedding turns into a whole different occasion when you are the groom and not some guest! You know you have to step up your game because only the bride can be as embellished as you.
What better way to see the mission through than putting on a dazzling designer jodhpuri suit? You can have the designer stitch it the way you want.
Be it the fitting of the suit, the pattern of the design, the style, or its colour, a designer wedding jodhpuri suit will make the bride fall in love with you all over again! 
Velvet
Material Jodhpuri
S
uits
The last one on the list, but certainly not the least, is a Velvet Jodhpuri suit!
There is no way that anyone who brushes against the fabric won't look back. On the other hand, you will have all your audience wanting to feel the softness of your rich velvet suit.
But their stunning looks are not the only part of the story! You will also find them extremely comfortable. So you see, leave it to the Indian Jodhpuri Suit for Men to impress everyone!  
Conclusion
Over the past few years, at least since the age of globalisation, the world has started to see men in Indian Jodhpuri suits in a different light.
As it turns out, this light seems to reflect men setting the stage on fire with their classy attires. It probably has to do something with the fact that people also call it the prince suit!
So, when you are out shopping, make sure to add this traditional style to the cart to stand out!