Ethnic Wear Online For Men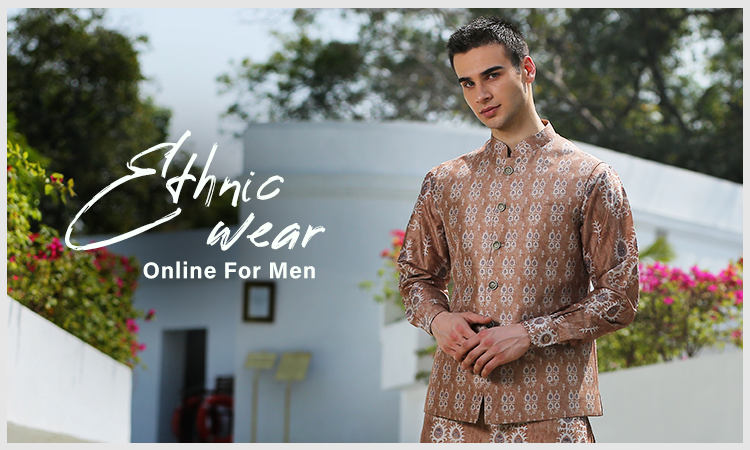 Understandably, women's fashion is always a focus, but it doesn't mean men should be forgotten. We attempt to make Ethnic Wear For Men as impressive as possible because fashion is an inevitable aspect of everyone's life. Unfortunately, even though women are constantly blasted with a vast assortment of traditional Indian attire for any event or occasion, Indian menswear appears limited. 
Most men will be dressed in jeans or shirts and pants regardless of the occasion, and we intend to change that by featuring men's Indian wedding costumes on the front. Unfortunately, many men appear to be unaware of or unwilling to investigate the different Indian men's wedding outfits that designers constantly release.
Why Ethnic Wear for Men? 
There are several beautiful Indian groom outfits in Ethnic Wear For Men that you should indeed have in your closet. Indian men's apparel is traditional, but it is also sophisticated, trendy, and elegant. Indian menswear has recently become a popular favourite due to celebrities' recent discovery of traditional Indian clothing. Bollywood stars, well-known designers, and even politicians have influenced males to embrace conventional Indian attire. 
With its rich design, the designer produced a modern style Indian wedding dress for men readily accepted by the public. Traditionally, Indian men's wedding costumes were confined to basic sherwanis with vivid and lavish designs. Still, the trend is shifting, and grooms are increasingly producing various men's clothing for Indian weddings. Not only are Indian traditional outfits becoming more popular, but today's men are also embracing the informal daily wear of Indian menswear. 
There is Something Ethnic for Everyone 
Royal textiles like velvet, brocade, silk and ordinary Indian casual clothes like cotton and linen are available to men. In addition, our extensive online store for Ethnic Wear For Men offers a selection of Indian groom costumes! We also provide Indian menswear all inspired by our rich traditions and authentic designs such as: 
Achkans
Kurta with Nehru jacket
Indo west sherwani
Pastel kurta pyjamas
Cowl kurtas with churidar pyjama
Ghicha kurta with Asymmetric jacket
Asymmetric kurta with churidar pyjama
Sherwani with dhotis
Bandhgala Jodhpuri suits 
We have a large selection of Ethnic Wear Online For Men, allowing you to purchase Indian men's wedding clothes conveniently! Indian menswear has expanded its horizons. Fashion designers have created new Indian wedding apparel online collections for men that feature brilliant fabrics, purely traditional western Indian patterns, and detailed embellishment.
 Blending Trend with Class 
We provide a diverse selection of traditional Indian attire for guys, with options to fit any occasion. Cotton kurta pyjamas for casual use, sherwani for festive events, Western Indian apparel for parties, Nehru jackets for formal events, and various other traditional Indian clothing for men are available. In addition, Indian groom attire and wedding wear are both available in our assortment of Ethnic Wear Online for men. 
If you've been looking for an Ethnic Wear Online For Men, we've got some excellent news for you! We've put up the most incredible inventory of Indian clothing for you. Bonsoir proudly displays its Indian men's apparel online, which is all you'd expect from an Indian men's apparel line. This line is a one-stop solution for all your Indian apparel online buying, with a clear division of traditional men's clothes and Indian groom attire. 
GIve us a call at
+91- 9711303035
or Email at
support@bonsoir.co.in
. You can also follow us on Instagram 
@ Bonsoir
to get updates about our latest products. Attitude redesigned only at Bonsoir.