Best Wedding Suit Collection for Men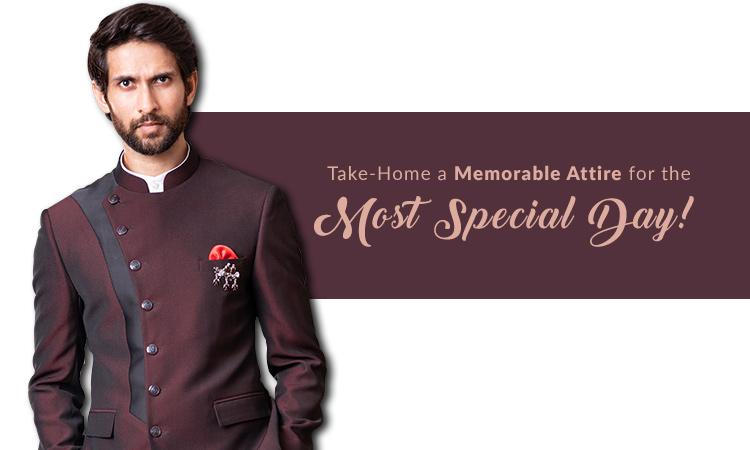 Your Guide to Vibe in Style This Wedding Season with The Best Wedding Suit Collection for Men
Weddings are the best time to deliver the classy you in style. Whether it's your wedding or the wedding of your best friend, wearing a suit is a must.
However, finding the best wedding suit collection for men can be a bit daunting. Weddings could be fun and exciting if only you didn't have to spend nights wondering what to wear.
Let's take a look at how a perfect wedding suit collection can take your woes away!  
What Are the Different Suits You Can Wear to a Wedding?  
Get your fun out of fancy at the next wedding you attend. A dapper suit is all you need to be the center of attention. These days, there are different kinds of suits available for men that look great at a wedding.
Here are the different styles that you can choose from.
3-Piece Suit
If you want to attend a wedding in winter or might just want to bring some oomph to the table, this is it. Flaunt your polished look with a jacket, trousers, and a waistcoat.
Lapel Suit
Adding the extra class to your outfit is the niche a lapel suit plays around. It comes with a folded collar at the front of the coat and looks great on formal occasions.
5-Piece Suit
Coming with a suit, tie, shirt, trousers, and a waistcoat, a 5-piece suit will give you a complete look. If you want to shine with a formal flair at the wedding, this is your best bet.
Tuxedo
With the smoothness of satin, a tuxedo is perfect for all formal occasions like a cocktail party or a sangeet night. Do you want to jazz up your entire look? Go Tux!
Things to Consider While Wearing a Suit at a Wedding 
From cocktail parties to the night of the wedding, a suit can go with all occasions without any doubt.
Here are some tips to jazz up your look when you wear a suit:
Tie: A good, chic tie that contrasts with the color of your suit can create a flawless look at a wedding function.
Shoe: The right formal shoe can amp up your attire and put you in the limelight.
Color: The perfect color that goes with the theme of the wedding can make or break your entire look.
Fabric: A good material will make you feel nice, but a great fabric can elevate the entire look for you. If you're attending a winter wedding, you can go for a wool blend fabric for your suit, and linens look great at a summer wedding!
Reusability: Ensuring that you can wear your suit at other events in the future is a very smart and cost-effective move.
Final Words
 A well-fitted suit can make you feel powerful and elegant. It can make you stand out on any occasion.
However, you know your style the best. If a suit on you is what dazzles the party and creates memories for you, you should get yourself one without any delay.