A Short Guide to Men's Wedding Attire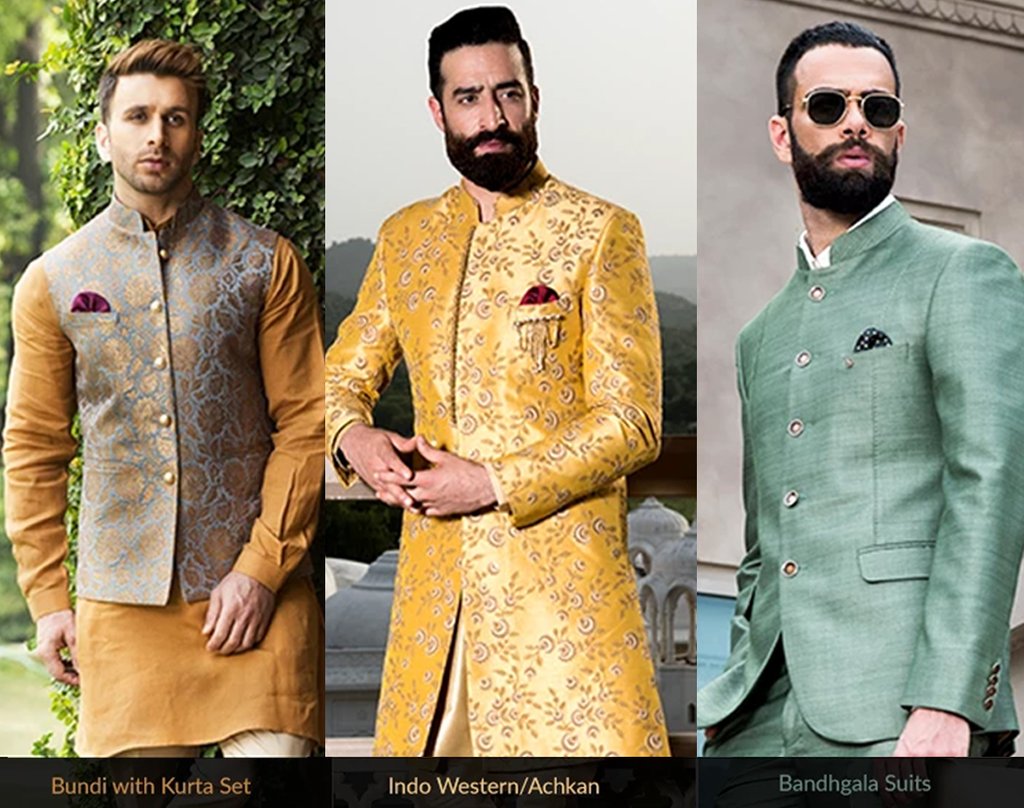 It can be frustrating looking for the perfect outfit with the multiple days, ceremonies, and occasions that crop up during a wedding. Every ceremony has one thing in common - you can't go wrong with Indian attire. So, take your pick of Indian wedding attire and style it up as you go.
Still unsure about what to wear? Take a look at the short style guide for men's wedding attire below!
Wedding Attire for Men
There are multiple types of wedding clothes available for men. But, here's a quick guide to everything you can choose from.
Bandhgala
If you're going for a royal look, then a Bandhgala is the perfect outfit. They sometimes come as a set with trousers. Otherwise, you can pair it with something plain or printed as per your taste.
If you want to level it up, you can pair it with a safa and Jodhpuri shoes. It's best to go for something printed, at least for the trousers, to make the whole look regal.
Sherwani
This knee-length coat is a staple. From weddings to formal occasions, it's versatile and works for multiple occasions. You can wear it for the wedding ceremony or the Barat.
Depending on the ceremony and your budget, you can opt for something more heavily embroidered or plain. When picking the material and embroidery, remember to keep comfort in mind.
Pathani Suits
If you want something for the Haldi or sangeet that isn't bulky, cumbersome or stifling, then a Pathani suit is perfect. Not only are they light and breezy, but they look effortlessly stylish. A comfortable pair of jodhpurs shoes, and you're all set to run around.
Kurta Suits
Any pre-wedding ceremonies don't need something extravagant, but they do require you to look formal. Kurta suits are the perfect blend of comfortable, formal, and stylish. Depending on the ceremony, you can opt for pastels or vibrant shades, but you're going to be comfortable no matter what.
Nehru Jackets
The quickest way to dress up your Kurta or jeans is to pull on a Nehru jacket. Whether they are textured, embroidered, or plain, they instantly make your whole outfit level up without taking away from your comfort.
For bigger ceremonies, it's recommended that you go with something more heavily embroidered to contrast a plain Pathani kurta. Some nice shoes and other accessories will have you looking fly.
Suits
Whether you're the groom or one of the groomsmen, a suit is a timeless option for the reception. They come in multiple colours, cuts, and styles for you to play around with for different functions.
They're great for pre-wedding cocktail parties and dinners if not for the reception!
Dhoti Kurta
If you're ready to take a fashion risk that will most definitely pay off, then consider pairing your Kurta with a dhoti. The timeless option is simple, comfortable, and traditional but will have you standing out from the crowd in the best way possible.
Wrapping Up
The best part about wedding attire is that everything can be adapted for a different occasion with just a few tweaks. A Nehru jacket on a Kurta or a dhoti instead of trousers, and you have a whole different outfit. With all those options on hand, all that's left to do is go shopping and find a great tailor for yourself.