The Ultimate Guide to Wedding Attire for Men 2022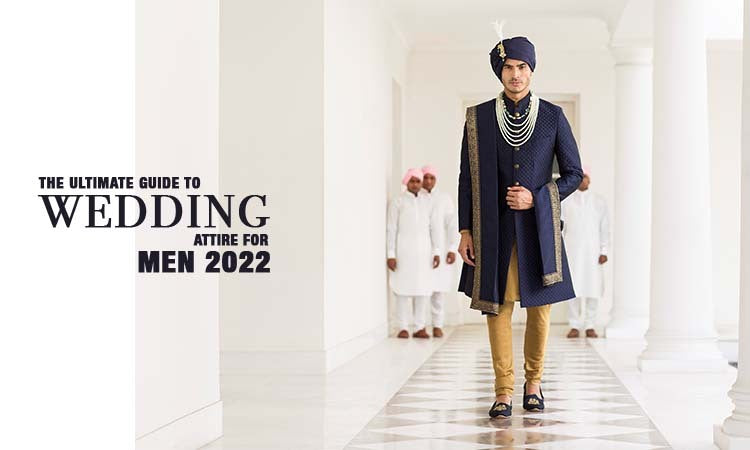 Fashion first is the motto during the wedding season. Whether it's your wedding or your friend's, it is important to keep this motto in mind when looking for clothes to wear.
There are more than a few options for wedding attire, and it is up to you to take full advantage of the fact, but here is a better idea of what is available to you!
The Different Options
There aren't just three outfits to choose from for a man during a wedding ceremony; there are actually multiple options for each part of the wedding.
Mangani or the Engagement
The very beginning of the wedding ceremony, the engagement, can be attended in a Kurta. The Nehru jacket is an optional but tasteful addition to the overall ensemble. It's stylish, classic, and elegant all at the same time.
You can switch it up by trying different patterns or contrasting colours; go wild!
Haldi Outfit
You'll need to wear something yellow for the Haldi as per tradition. This isn't just a social convention, but it'll keep the staining from becoming too visible.
There's going to be a ton of mess, so don't bother dressing up too much. You can opt for a kurta with pyjama, Patiala, or dhoti.
While you don't have to dress up too much, you can still enjoy some finer embroidery or patterns to mark the happy occasion.
Barat
The Barat needs something elegant, graceful, and easy to move around in - what better than a Sherwani?
It adds the exact sort of flair you need for such a grand occasion and has multiple different styles, patterns, and combinations to choose from.
Factors to Keep in Mind
Regardless of what you were, there are different factors to keep in mind when you're choosing your outfit.
Fabric
Western or Indian wedding attire, the fabric you choose is important for several reasons. Firstly, it dictates your level of comfort. If it's the height of summer and you're wearing velvet for an outdoor ceremony - you're going to roast.
Secondly, the overall appearance of the outfit depends on the material you use. The right material will highlight the best parts of you and enhance the cut.
Cut and Fit
It's necessary to get something that fits and complements the shape of your body. Enhance the best parts of you in your wedding day attire.
While there's no harm in picking something ready-made, it's best to hand it over to a tailor after for those much-needed alterations.
Altering the cut and fit that tiniest bit can also make it more comfortable for you.
Accessorize
Who says the accessories are just for women? You'll need the right accessories for your overall look to come together. Whether this is the appropriate headgear or a watch with your suit, make sure to accessorize.
Comfort
Above all, you need to be comfortable in whatever you wear. If a suit isn't something you're comfortable in, don't wear one! There are multiple options to choose from. While certain ceremonies call for a certain look, there's no harm in mixing it up.
Wrapping Up
When wedding day approaches, you'll be all set to wow the crowd with your fashion-forward clothing. With comfort, style, and occasion in mind, you'll be the best dressed one out there.