3 Interesting Ways to Style A Sherwani For Weddings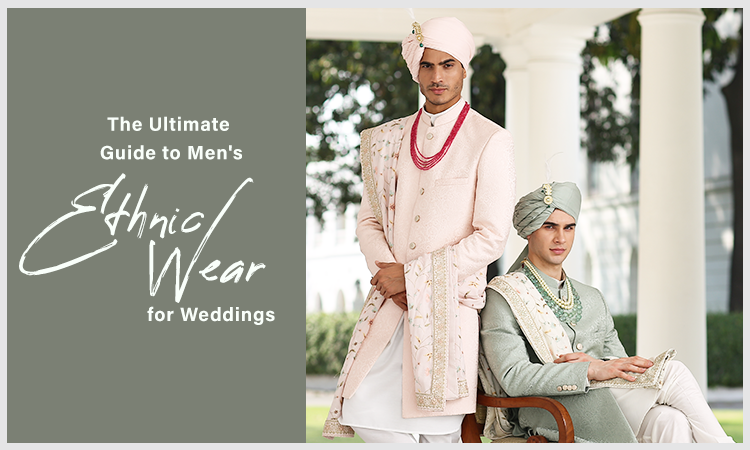 One of the most joyous occasions that bring the whole family together is weddings. These may not come very often, but you may want to give it everything you've got in terms of clothing and styling when they do. 
Whether you are dressing up for a family member's wedding or you are the best man for your friend's matrimony, being the best-dressed man in the room can do wonders for you. In this situation, there is no finer option than sherwani for men wedding!
As stylish as they are, sherwanis are also highly versatile as they come in several types and can be styled in many different ways based on the occasion. 
And if you are looking for some inspiration on how to style it, you are in the right place. So make sure to read this quick post till the end to find what you need! 
What is a Sherwani?
In simple words, sherwanis are the most stylish and standard attires used for significant events like weddings. Even though they are relatively simple outfits, wearing a sherwani can put you under the limelight of any event. 
They are mainly designed to make the wearer look more stylish, elegant, and classy. However, the structure of this outfit can also make the ordinary person look more charming and graceful.
Usually, sherwanis are worn with simple extras like pajamas or dhotis. While this may be the easiest way to wear them, there are 3 other ways to take the outfit from elegant to extravagant.  
#1 Classic Style 
If you are a low-maintenance type of man who prefers comfort over style, you can wear the sherwani the way it is supposed to. This may be a no-brainer, but wearing a sherwani in its intended way can make you look effortlessly stylish and classy. 
You can also pair this outfit with kolhapuris or mojris for an extra touch of flair. And the best part is that you will not require any accessories as the ornamentation on the surface will give you the glitz and glam you need! 
#2 Deconstructed Style
Not interested in wearing a sherwani, the classic, traditional style? Then why not deconstruct the outfit to contemporize it? 
All you ought to do is put on a pair of formal trousers, and wear a classic white shirt on top. Next, take the sherwani's kurta and wear it as a jacket leaving it unbuttoned. 
And, voila! You are all set to take center stage with this contemporary sherwani! 
#3 Maharaja Style
If you are looking for an extra-shiny and dazzling way to wear your sherwani, you can try adding a royal touch to it. 
This style includes going the extra mile on accessories like shawls, dupattas, turbans, and other flashy jewelry. While this may be a great way to make your outfit look royal and luxe, you can also add just a few pearls if you want to downplay on the dazzle.  
To Wrap It Up
When it comes to events like weddings, there are a few clothing items that will never go out of style, and one of them is the sherwani for men wedding. 
Whether you plan to wear them the traditional way or modernize them a bit, you cannot go wrong with sherwanis. So why not try these styles to make yourself look more striking than the rest of the crowd?