The complete guide to men's partywear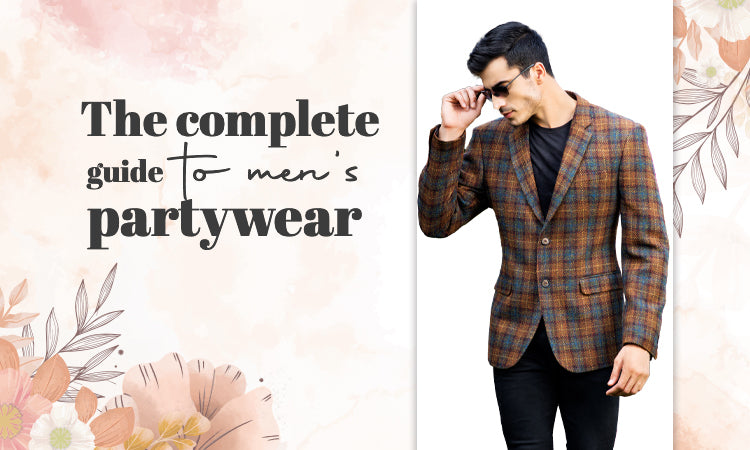 The majority of men feel limited to what they can wear to a party. Well, they should not feel so. The truth is that if you expand your horizon and look more closely, then you will find the options are limitless. All you have to do is try to expand the variety of materials in your closet.
In this article, we present top ideas to find the perfect men's partywear for you. 
Partywear for men
Your friend is throwing a house party and you are clueless about your attire? As per our style experts, a sharp pair of jeans would be your best bet. When it comes to party wear for men, a pair of black jeans are your best friend. Even in that, you have different ways to dress up for parties.  
Classic all-black outfit
The favourite of fashionable men, it is quite a good option. You can wear your black jeans with a simple tee and a leather jacket. In addition to that, wear a pair of boots in suede for a classy look. Don't even think about wearing a pair of sneakers. It will ruin the look!   
Party shirts
You already must be having different kinds of shirts including plain, printed, striped, chequered, striped, etc. If you are heading to a bar for your party, then a printed shirt would be perfect. You can pair it with your jeans and sneakers. Along with being casual, this look offers you the highest level of comfort as well.  
Attractive accessories
If you want to send a strong message across the room that you have made an effort to get dressed up for the party, then an expensive pair of shoes or a designer belt will easily make your overall appearance to be more party appropriate. Putting on the right accessories would be a good idea in this case.  
Formal pants
If you are looking for more sophisticated men's partywear, then you should trade the jeans for something more formal–a pair of formal pants. You can wear a pair of black formal pants with a statement jacket. This will look exciting as well as extremely stylish. It is one of the top trends for men this year. If it is winter, then choose either a dreamy suede bomber or a refined check coat. Combine the outfit with a ribbed sweater and a pair of classy boots.  
Corduroy pants
These pants are making a comeback. So you better think about incorporating this style into your wardrobe. Choose from its different fits– Tapered or wide-leg. After making that decision, you can search and compare on Bonsoir to find the best one for you. You can wear the statement pants with a plain sweater or t-shirt.  
Looking for the most stylish men's party outfits? Trust none other than the best–Bonsoir. The fashion house offers fashionable outfits that make you stand out in the crowd. It is a well-known name when it comes to the trendiest party menswear. A special celebration is coming up in your family and you have no idea what to wear? Worry not! Go through the stylish range of men's partywear at Bonsoir and you will surely find something for yourself. Spread the magic of your style. Look the sharpest on D-Day. Nothing makes a man look more handsome than a well-tailored attire.  
Located in Noida (Uttar Pradesh), Bonsoir is counted among the best online fashion store offering worldwide shipping for its partywear for men. You can find the top picks of menswear for your trendy wardrobe from its online store.