Style Tips for Men to Dress in Indian Wear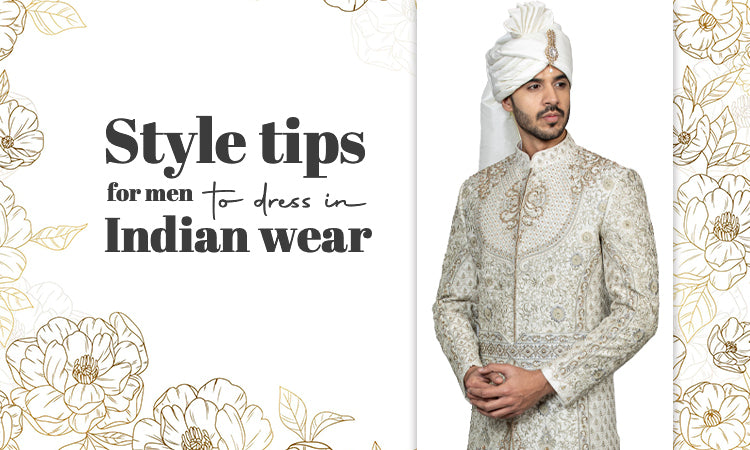 Fashion changes every year and fresh and chic trends are introduced in the market. As men have become quite conscious of their style statements over the last few years, we present here some of the best style tips when it comes to dressing in Indian wear. Ethnic wear is among the most stylish outfits for men as it further enhances their personality. This clothing adds a touch of royalty and elegance to their overall appearance. The best thing is that there is men's ethnic wear available for different occasions such as weddings, religious events, family get together, engagement ceremonies, etc.  
In this article, we present the top style tips for men who want to dress up in Indian wear.         
Men's sherwani for wedding
Sherwani is probably the best outfit for men when it comes to Indian wear. This classic ethnic wear gives you a sophisticated and classic look for a grand occasion like a wedding. Available in a wide variety of colours and styles, sherwanis are an extremely fashionable outfit that is also the favourite of fashion designers. It offers you an outstanding look that is extremely charming at the same time. There are different styles of sherwanis available such as:  
Sherwani with dupatta
Evergreen and timeless, sherwani is the best outfit for any traditional ceremony. However, sherwani with dupatta looks even more ethnic. It is a refreshing style that has emerged as a sought-after outfit in the fashion world, winning hearts for sure! You can pair the sherwani with a bottom such as churidar, dhoti, or pyjama. The dupatta will add an edge to your entire Indian look. The world-famous Indian cricketer Virat Kohli carried this look on his wedding.  
Sherwani with dhoti
Famous celebrities like Shahrukh Khan and Amitabh Bachchan have carried this look quite often. And why not? Such is the stylish appeal of this men's ethnic wear along with being comfortable as well! This is an amalgamation of western and Indian look that is known for its classy and elegant appeal. This Indo-western sherwani with dhoti adds extra panache to your overall personality. Sherwani with dhoti is one of the best choices when it comes to traditional clothing in India. at present, this style is more popular among youngsters as the Indo-western sherwani with dhoti offers a fresh and royal look.   
Angrakha style sherwani
This style of sherwani is in high demand among the grooms-to-be. This ethnic style comprises every element that is not present in others. Angrakha style sherwani offers men an extraordinary look if they choose to wear it with a jacket. It is flared down from the waist. Ranveer Singh carried this look during his wedding ceremonies.   
Jodhpuri suit
Offering an affluent and royal look, this suit is one of the best options when it comes to Indian ethnic wear. It has become an essential part of the new Indian wardrobe. Amitabh Bachchan wore Jodhpuri suits many times on the sets of KBC.  
Buy the trendiest and the most stylish men's ethnic wear from Bonsoir! Just scroll through hundreds of choices in the comfort of your room as it offers an eclectic array of attires online, ensuring timely delivery. If you have an Indian ceremony coming up, then choose from a wide variety of smart casual suits. Whether you are looking for the best dress for an informal occasion or a traditional ceremony, all the offerings will suit your style and personality. Located in Noida, Bonsoir is counted among the best and the coolest online wear store offering worldwide shipping for its men's ethnic wear.