8 Trendy Indian Wedding Outfits for Men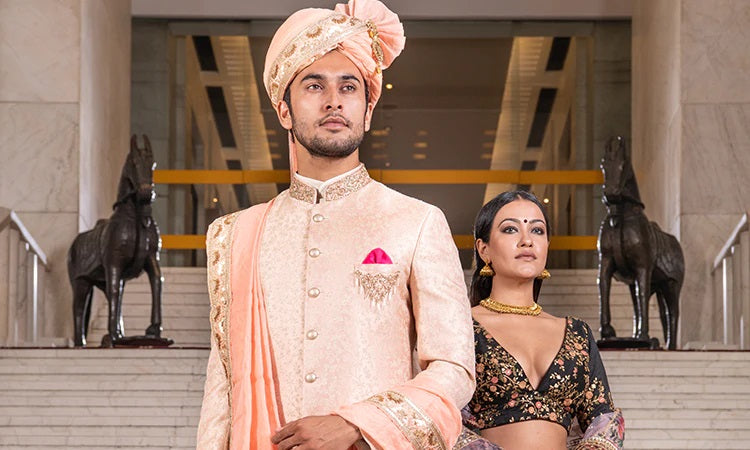 When it comes to wedding shopping, the groom's wedding dress takes a backseat. They are not to be blamed because they are busy helping their new brides search for the nicest lehenga and jewellery.
However, that shouldn't be the case since it's an important day for both the bride and the groom. To assist all of you desi grooms in selecting the greatest wedding outfits for men, here's a list of the trendy wedding wears for men.
1. Elegant Gold and White Sherwani
With this traditional gold and white sherwani, you may keep it simple and attractive on your big day. Carry a golden dupatta, or just wear a pearl necklace to spice up the appearance of this Indian wedding outfit for guys!
2. Traditional Gold and Maroon
The colour scheme of maroon and gold is timeless. These types of wedding gowns for men are ideal if you aren't picky about your wedding appearance and want to keep to a classic design.
3. Offbeat Wedding Suit
A shirt coupled with beige slacks and a fancy embroidered suit is guaranteed to set you out from the crowd. You don't have to buy a designer dress, but you can certainly get some inspiration from it.
4. Traditional Gold Sherwani
When it comes to wedding attire for guys, nothing surpasses the elegance of a gold embroidered sherwani. To complete your wedding style, pair this attire with a contrasting safa and some stunning jewellery.
5. Classic Red and Ivory Sherwani
If you have classic taste and want a simple yet traditional sherwani for your wedding, a red and ivory sherwani is the correct choice for you. It looks like the ideal wedding attire for guys when paired with a matching safa and dupatta.
6. Nehru Jacket Kurta and Pants
The kurta, Nehru jacket, and dhoti combo will make you seem handsome on your wedding day. This combination is one of the most fantastic wedding gowns for men since it is comfy, simple to carry, and can be embellished in various ways.
7.  Floral Nehru Jacket and Kurta
Who said that flowers are just for women? The multicolour floral kurtas with vibrant Nehru jackets are ideal for a daytime wedding in the spring or summer. Pair these with some lovely patterned safas, and you're ready to go.
8.  Printed Sherwani with Drape Style Hem
Add a quirky draping feature to the hem of your traditional sherwani for a subtle change. This Indian wedding dress for guys not only looks trendy and elegant, but it also has a unique aspect to it.
Wrapping Up
You might be busy choosing your bride's lehenga but don't forget about yourself too. It's one of the biggest days in your life, and you need to look handsome as well.
Try one of the trendy listed suits, and get ready for the nicest pictures that you both will cherish for the rest of your lives.