Styling the 2022 Holiday Collection for Every Upcoming Occasion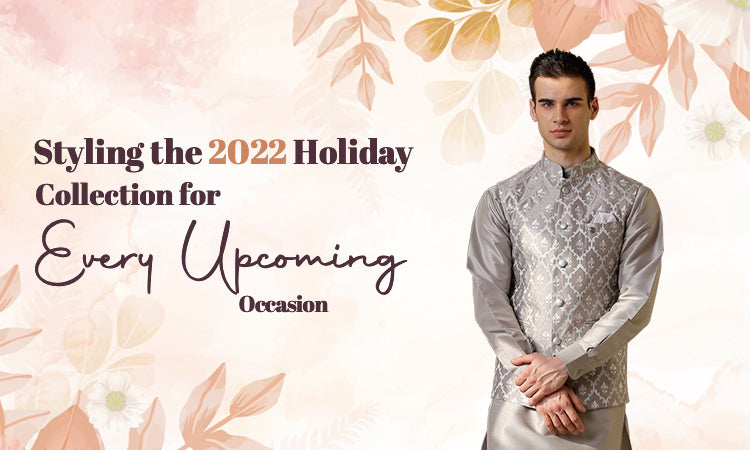 Whether there's a holiday or a wedding, you need new clothes. Most festivals mandate new clothes, and that's when buying formal Indian attire is best! From formal Bangdhalas to a more casual kurta set, you have a range to choose from.
But how will you style it? Check it out below!
Holi
The festival of colours comes once a year, and dressing up for the occasion may not be mandatory, but it's a nice way to celebrate.
Since your clothes will get damaged while playing anyway, it's best to get a Kurta like the pure linen jacket set with a blue kurta that is simple and elegant for the ceremonies that come before!
Having the right clothes for the more serious parts of the day is important and necessary!
Diwali
Diwali is an essential occasion for everybody in the country. It's an occasion where buying new clothes is not an option but a necessity. If you're using it for the celebrations, you can opt for something grander like the Blue Jacquard Indowestern Ackhan set.
If you're not keen on something so grand, then something like a Green Kurta Set is stylish and elegant enough to get you through the main day!
Ganesh Chaturthi
Ganesh Chaturthi is yet another occasion where buying clothes is a necessity more than a want. Since it is such a big festival, it's best to get something grander. Something like the Olive Jacquard Indowestern is a great choice especially considering the grandiose celebrations.
Even something more understated like a plain white kurta with the Teal Jacquard jacket would be suitable for such an occasion!
Raksha Bandhan
The day to celebrate your family is another occasion to buy new clothes and dress up! Who says your sisters should have all the fun?
Since the celebrations are usually understated, buying a kurta set that is plain but elegant is the best idea. If you're keen, you could choose something like the Grey Printed Kurta Set or wear a simple kurta with a solid-coloured Nehru jacket over it!
Wedding Functions
Weddings are the best occasion to dress up. Whether it is close family or a friend's wedding, you'll need to find something appropriate for each occasion. Whether it's a Bangdhala for the ceremony or a kurta set for the Haldi, you can find several suitable options scattered across the collection.
If you're desperately looking for something for a cocktail party, then you'll be satisfied with the array of suits available in the online store!
Vacations
While vacations don't seem like the best time to dress in Indian formal wear, there might be occasions where you'll need them. Whether you're visiting a temple or you're aiming for something traditional but close to your heritage, there are several kurta sets to choose from.
You can use the grey printed kurta set as three different outfits per your requirement! But, if your vacation is taking you somewhere fancy that requires western formal, then a suit is a great option to carry with you!
Wrapping Up
There's definitely something in the holiday collection that you would need no matter the occasion. Whether it's a printed kurta set or a formal Bangdhala, we guarantee there's something that will catch your eye!