5 Great Men Trending Cloths that You Have to Add to Your Closet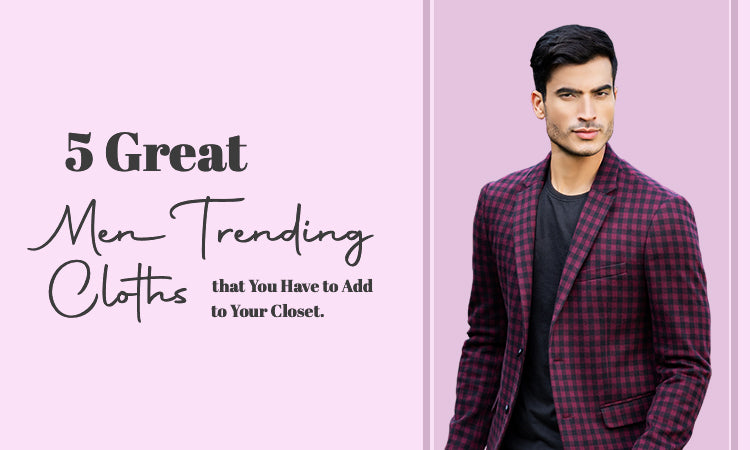 As the saying goes, "A well-dressed man is a handsome man," and that is right. If you look good, you feel good, and if you feel good, you will be confident to face any situation easily. Dressing up is not always about being in suits or formal wear. One of the best ways to showcase your personality through your dressing style is trying out men's trending clothes.
 But it seems like the struggle is finally ending, with more and more people starting to adopt fashion to fit the modern era. Today's world is full of different clothing brands, and the options are endless. 
 It doesn't matter if you are a beginner or an expert, this article will give you a good understanding of what men's fashion is all about. 
5 Men's Clothing Essentials You Should Have!
 These items will take you from day to night effortlessly, elevate your style to the next level, and are guaranteed to turn heads.
 #1 A Basic Suit
Invest in a classic black suit. It's the go-to suit for any occasion and will get you far in life. If you don't have one, I highly recommend buying this as it will last you a lifetime, take a look at these black designer suits from Bonsoir.
 #2 Look Stylish with Your Jeans! Dark Denim to the Rescue!
Men wearing dark denim jeans is one of the most trending fashions for this season. If you are fond of wearing regular denim, you can easily swap them with dark ones and get a completely new look. You can even wear your dark denim jeans with formal shirts and sweaters to give a smart-casual effect on yourself.
 #3 A Leather Jacket Suits Every Man's Wardrobe
There is nothing more badass than owning a leather jacket. Invest in one and wear it all year round – A good leather jacket is essential for any man's wardrobe. Not only does it look cool, but it will keep you warm during the winter months. 
 #4 A Classic Shirt for Every Occasion
A classic shirt is an investment. It should last you long and always be appropriate for any occasion. The key is finding the right fit so it looks good on you. From there, you can wear it with just about anything!
 #5 A Turtleneck
A classic piece of clothing that has withstood the test of time, a turtleneck is a timeless garment that will never go out of fashion. Every man should own at least one turtleneck in their wardrobe. They are not only great for layering, but you can also wear them on your own with a pair of jeans or even shorts!
 Wrap Up
 There are a lot of men's clothing trends available in the market today. It can be hard to know what looks good and what doesn't. These five apparels we have featured in this article should help make shopping for menswear much easier and trendier this season.
Now that you know the top 5 trending men's apparel, it's time for you to go out and get your hands on them! Thanks for reading!