Wedding Wardrobe for Men: 4 Stylish Pieces Every Groom Should Own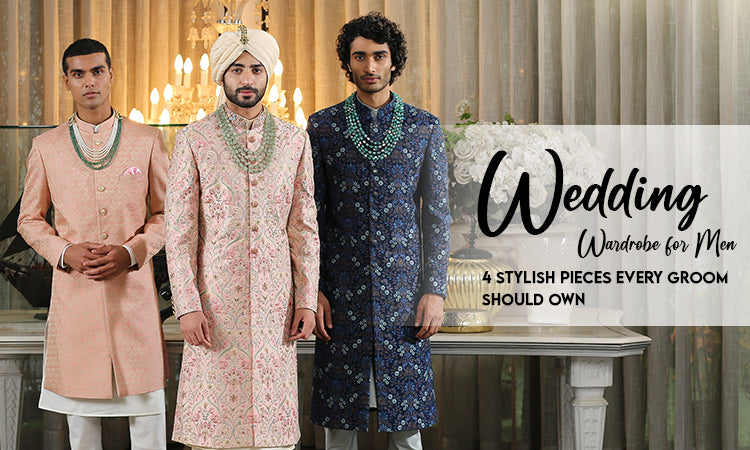 Weddings are the special occasion to devote all your efforts to ensure you look great for your chance of a lifetime. Sure, there's some pressure and often the groom is expected to wear a tuxedo with tails or a rented top hat, but what about yourself? Your wedding day is going to be a significant moment and it deserves as much focus on your sartorial display as any other girl.
Get the Classy Look with a Jodhpuri Wedding Dress for Men
This outfit is your best bet for bringing the west and east together. If you want to add a touch of class to your style, the jodhpuri dress for men is a perfect choice. The jodhpuri comes in a variety of styles, from the classic gold printed to the more commonly used sharp-cut, crisp jodhpuri suits with trendy motifs and patterns.
There are several ways to wear a jodhpuri suit, with the jacket style being the most common. Get the latest design of jodhpuri suit with Bonsoir which will make you seem sophisticated.
Elegant White and Gold Sherwani Wedding Dress for Men
For those looking for an elegant and stylish wedding dress for men, look no further than the sherwani. This traditional Indian garment is typically made of gold and white fabric, making it the perfect choice for a sophisticated and regal look. The sherwani can be decorated with intricate embroidery or beadwork, adding a touch of luxury to the outfit.
Whether you choose to wear it as is or style it with a matching dupatta, the sherwani is sure to make you look like a Prince on your special day. Get the latest collections of sherwanis with Bonsoir and make all heads turn your way this wedding season.
Stylish Bandhgala for a Modern Groom
A Bonsoir bandhgala is the perfect choice for the modern groom who wants to make a style statement on his wedding day. This stylish wedding dress is designed with men in mind, and it shows off your good taste and sense of style. The Bonsoir bandhgala is made from high-quality materials and it comes in a variety of colors and designs. You can choose the one that best suits your personality and style.
There's no doubt that the bandhgala is a stylish and modern option for the groom. It's a great choice for a summer or spring wedding and can be easily dressed up or down depending on the occasion. The key to pulling off the look is in the fit - make sure it's tailored to your body and looks sharp. Bonsoir has a great selection of bandhgala suits that are perfect for any groom.
The Traditional gold and maroon wedding dresses for men
It is time to talk about the traditional gold and maroon wedding dress for men. This style of wedding dress is perfect for those who want to feel like a king on their big day. The color combination of gold and maroon is regal and will make you stand out from the rest. The best part about this style of dress is that it can be worn again for other formal occasions. So, if you are looking for a timeless and classic wedding dress, then the traditional gold and maroon wedding dress is the perfect choice for you!