Sherwani- A Guide to Finding your Perfect Wedding Wear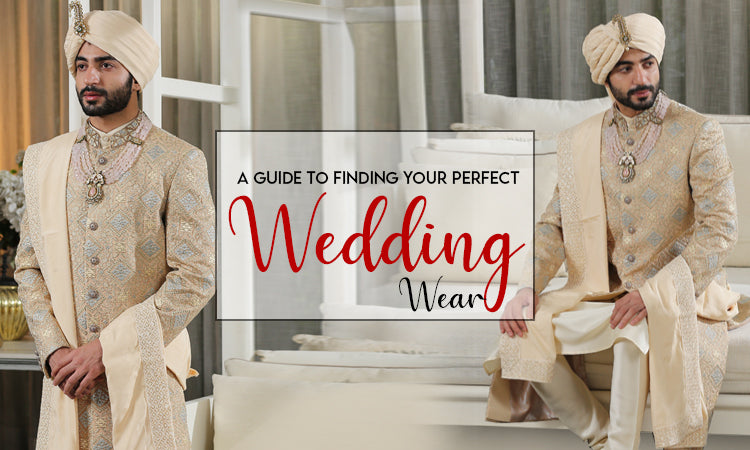 Sherwani has been a symbol of royalty in India for centuries and is still worn by many Indian men for weddings. In recent times, the sherwani has been reinvented as a wedding dress for Indian men, and that too with a touch of elegance and style!
The wedding day is one of the most important days in the life of any couple. It is a big occasion, and you want to look your absolute best on this day. That is why with Bonsoir, we offer Sherwani, the perfect formal wear for weddings. Bonsoir has a wide selection of Sherwanis for Men to find the right one for you!
Show off your true essence
The first step to picking any outfit is the color you feel the most secure in. It's your day, and picking a color that doesn't reflect your personality might be a major mistake. To begin, choose a color palette that you are comfortable with.
Once you've decided on the colors, eliminate a couple that don't match the theme or time of your wedding. Evening weddings benefit from darker, deeper, and richer colors like emerald green, royal blue, or maroon, while day weddings benefit from softer, pastel hues.
Choose a Design that lusters
Designs are sprinkles of paradise responsible for enhancing attire. For so many styles to pick from, you should choose those that add simplicity and elegance to your personality. Some needlework and designs that follow the way to constructing a sherwani include floral patterns, stone decorations, modern artworks, sequins, zari and zardosi embroidery.
In most situations, grandiose designs like sequins and decorations are appropriate for evening celebrations, while flower patterns and modern artworks are appropriate for daytime activities.
Choose your inner style
The wedding day is one of the most important days in a person's life, and you should leave no stone untouched. Choose one of the various styles available, such as indo-western sherwani, anarkali, or patiala, that will put you in the spotlight. However, there is a more difficult aspect to this transaction. You may believe that the style of your sherwani is totally up to you.
However, if the fabric you choose blends in with your bride's lehenga, this synchronization is a wonderful combination of time and timelessness. This keeps you from looking like a rival to your wife and allows you two to write your own love poetry.
Perfectly Fitted
Ill-fitting sherwanis seem unprofessional. To prevent this problem, always make sure that the costume allows you to move freely. Most weddings include dancing, and wearing well-fitting sherwani lets you swing to the beats of your special day without worrying about pulling stitches.
A well-fitting sherwani also keeps you in the spotlight thanks to the textile lens and keeps you comfortable throughout the occasion. You may wear it both during the day and at night provided you have the right attire. With The HUB's made-to-order sherwanis, you can relax and enjoy your big day without worrying about poor fit.