Wedding Attire for Men: Complete Guide for all the Ceremonies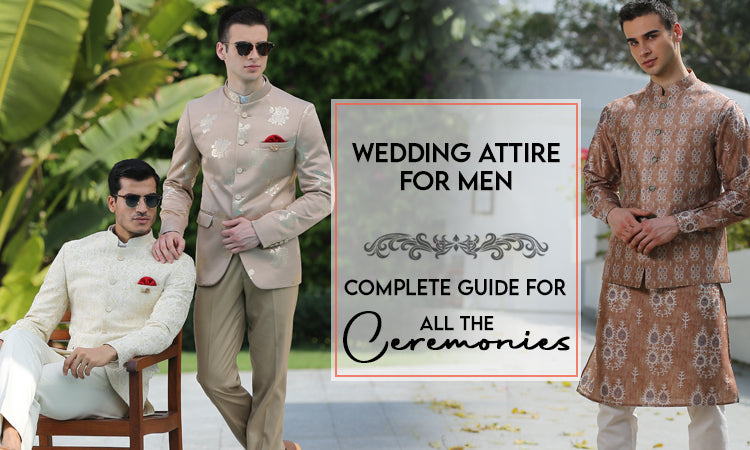 If you're the groom (or arranging the groom's appearance), you'll need a wedding attire that men will admire when they look back on your wedding images for centuries. That sensation you're experiencing is pressure. Fortunately, you're in command. A dress code, wedding theme, venue, or time may all be used to influence the wedding outfit feel.
As a wedding guest, you should expect to be tagged on social media before the last dance at the reception. With the wedding specifics you have, learn what to dress to a wedding now and spare yourself hours of tediously untagging photos afterwards.
If you're not sure what to wear, this guide can help you figure it out. Let's have a look at what you can dress to the wedding's numerous functions:
Roka
Roka is a laid-back event where few people dress up. It's generally a casual encounter where the male meets the girl, things are finalised, and the wedding is officially announced. There is no need to dress formally here.
That doesn't mean you should show up in your tattered jeans and white shoes. Put on a black shirt, off-white slacks, brown shoes, and a brown belt for a night out. It looks great with a black stainless steel watch. When it comes to formal but not too formal, nothing beats this mix.
Engagement
Some individuals like to have their engagement ceremony during the day, while others prefer to have it at night. And you should dress appropriately. Nothing beats a sky blue linen suit with a white shirt for a daytime engagement. If you don't like blue, try a cream linen suit with a black/white shirt. In both circumstances, wear brown shoes and a brown belt.
Haldi
Haldi is a function that does not require much dressing up. You may wear a basic Kurta Pyjama here. A Pathani Kurta Pyjama would be ideal. You may choose any colour you like, whether it's pure white, pure black, or anything else that looks well on you. Make it a little party wear and avoid wearing a half-sleeved Kurta. That is an emphatic NO!
Sangeet
This is the moment to go all-in on tradition. Go out and get a vividly coloured kurta and a Nehru jacket to go with it. A maroon kurta is appropriate for any event, and a Nehru Jacket may be worn to complement it.
Cocktail
Although you will remove your coat after the third drink, it is crucial that you seem presentable until then. Put on a suit. Nothing else will suffice.
Not your favourite vest and new tough jeans, not the white shirt you only wear on rare occasions, and most obviously not something conventional. Wear a white shirt. You may either leave it basic or add a pink tie and a matching pocket square. If black and white aren't your thing, try grey for a night out. But let everything else alone. This is your chance to be Barney Stinson.
Wedding
You have two choices. You may either dress traditionally or suit up. If there is no reception, you have complete freedom of choice and the perfect wedding suit would make you a ladies' man in no time. Look at the latest collection by Bonsoir by Akhil Gupta for the latest trends. However, if there is a reception party, I recommend that you wear something conventional to the wedding.
Reception
This is the function that will bring out the link inside you. Nothing beats a perfectly tailored tuxedo. You may go completely 007 by wearing a basic black tuxedo with a white shirt and a bow.
However, if you want to stand out from the crowd, opt for a cream tuxedo. A cream jacket, a black shirt, black slacks, and a black bow complete the look. It would be ideal if you are self-assured enough to pull it off. Wear black shoes in any circumstance.