The Ultimate Guide to Indian Wedding Dresses for Men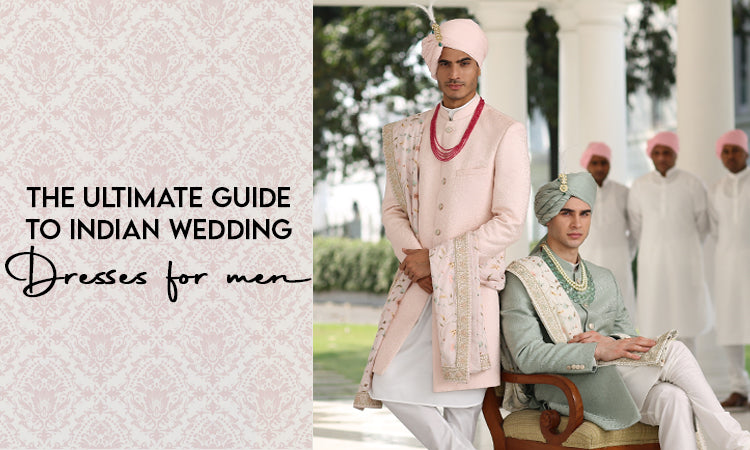 Wedding season is here and we are sure you are looking for the trendiest wedding collection for men! Whether the wedding bells are ringing for you or your best buddy, you should look the most stylish man this wedding season. To help you in making the right choices, we bring here the ultimate guide for men's wedding collection. You can explore a whole world of opportunities!  
If you are the groom or his best man, you should take it very seriously when it comes to dressing for this wonderful occasion. We understand that the pressure of the wedding season can be insane sometimes and you can get overwhelmed. In order to make your life easy, we will surely help you select the best Indian wedding dresses for men. There's a potpourri of Indian and western outfits to choose from.  
Wedding collection for men that you will make shine
The royal appeal of desi outfits is extraordinary! Whether you want something for side functions or as a show-stopping outfit for the main event, the Indian wedding dresses for men are so versatile and ideal for every celebration.  
Classy Jodhpuri wedding dress for men
This outfit is your best bet if you want a perfect combination of the west and east. Looking to attain an extra dose of finesse? This is a great option for men and you are sure to look handsome in it. Jodhpur wedding suits for men are available in so many appealing designs ranging from the modern sharp cut to the traditional gold printed. Crisp crisp Jodhpuri suits with modern prints and patterns are perfect for all kinds of ceremonies.
 The jacket style being the most sought-after, there are various ways by which you can style a Jodhpuri suit. It is the epitome of sophistication! To enhance your desi swag, you can wear funky sunglasses.
 Rich Rajputana Dress
A royal variety of Indian wear, a Rajputana dress is somewhat similar to the Jodhpuri dress. It reflects richness, class, elegance, and sophistication. It is popular among royals and nobles. If it is a high-class, grand wedding, then you should definitely wear this. There are two popular styles of Rajputana dress for men. If you are looking for an ultimate Indian look, then wear a kurta with a churidar. Sleek pants with a Rajputana kurta are ideal for a contemporary look. You can choose solid colours such as black, white, or beige for a classy look. If the wedding is in the winter season, then this dressing option would be simply great.
 There's a lot for you to explore when it comes to wedding collections for men!
 If you are looking to wear an Indian outfit, then you have the following choices:
Jodhpuri
Rajputana
South Indian
Maharashtrian
 In western outfits, you have the following options:
Blazer
3 piece
Cocktail suit
Tie outfits
Check out the most happening wedding collection for men at Bonsoir! Its offerings are in high demand among men, who want to establish a style statement.