Trending Wedding Outfits for your Best Friend's Wedding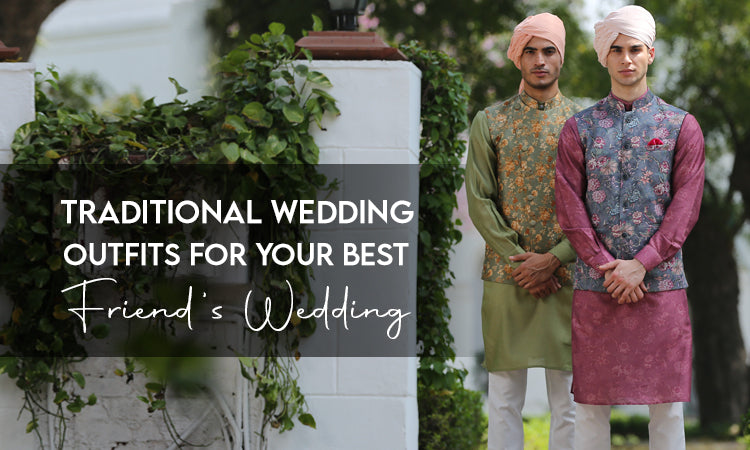 Wedding season in India is nothing short of a carnival, with so many events to attend, all that dancing, and, of course, the delectable cuisine. Every year, we all look forward to the wedding season. While attending, dancing, and eating at a wedding are fun, the one thing that makes you nervous each year is your attire.
The season of sparkle and glamour necessitates that you look your best and pull out your best clothing from your closet. While men are adept at dancing and drinking at weddings, they struggle with choosing acceptable clothing for the occasion. With the wedding season set to begin in India, preparations have already begun.
Because wedding dresses take time to put together, now is the time to choose and have the best outfits manufactured, as well as gain unique perks on the current trends. Keeping things as basic as possible, we bring you the greatest wedding clothes for the next season.
Jodhpuri
This outfit is your best bet for bringing the west and east together. If you want to add a touch of class to your style, the Jodhpuri dress for men is a perfect choice. The Jodhpuri comes in a variety of styles, from classic gold printed to current sharp-cut, crisp Jodhpuri suits with trendy motifs and patterns.
There are several ways to wear a jodhpuri suit, with the jacket style being the most common. The latest design of the Jodhpuri suit worn by Ranveer Singh would make you seem sophisticated. Bonsoir by Akhil Gupta has a plethora of options to look for while choosing the perfect in-western outfit for men.
Rajputana
This is a regal kind of Indian clothing, akin to the Jodhpuri. The Rajputana attire is another wonderful representation of wealth, elegance, and refinement, and is popular among royals and nobility. These are perfect for a high-end, pricey wedding.
The kurta with churidar for the ultimate Indian look and the sleek pants with Rajputi kurta for a modern look is two popular types of Rajputi attire for men. Choose a Rajputana dress in a solid colour such as black, white, or beige for a more elegant effect. Rajputi and Jodhpuri are not only elegant but also make excellent winter wedding gowns for guys.
Western Suit
What's more appealing than a blazer suit? Almost nothing! This very cute outfit is a favourite of actresses, bloggers, and influencers, but that isn't what makes a blazer so popular at Indian weddings. Blazers for men in Indian weddings are a popular attire because of the sleek cuts, rich fabric, and the way it adds dimension to a man's figure.
Lungi
If you believed a Lungi couldn't be worn for festivities, you're mistaken, brother. Contrary to popular assumption, the classic white lungi with golden borders is a popular bridal attire. The majority of the costumes are different combinations of lungi with shirts or kurtas, and there isn't a large choice of south Indian men's wedding gowns. This traditional combination is chosen by many of the guests, including the groom himself.
Royal Maharashtrian
The desi Dhoti pant is the go-to festive costume for the Marathi man. At a typical Marathi wedding, many men, including the groom, wear the customary dhoti pants with a Kurti.
This attire is relaxed, windswept, and functional. It is appropriate for a typical Marathi wedding that is not overly formal. Young Marathi lads would sometimes liven up this style by adding an additional layer and definitely wearing the dhoti kurta with a jacket.