Spruce up your style quotient with Kurtas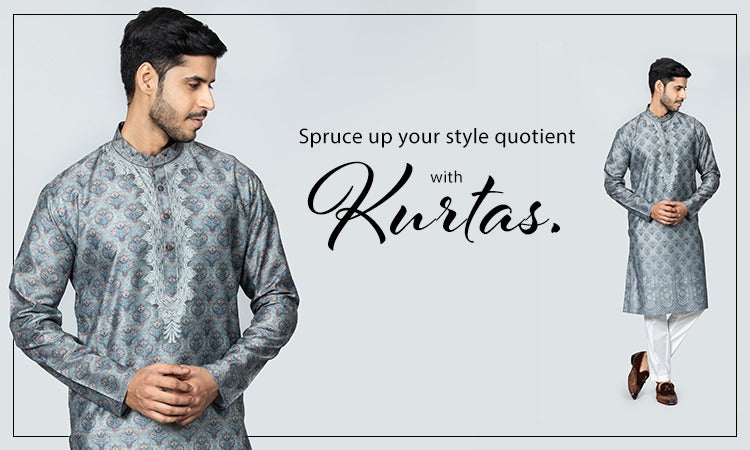 Menswear has extended its limitations. However, one thing is an accepted fact that men's kurta sets have been the first pick through decades to flaunt the traditional sartorial elegance with a touch of modernity. From being a forever favourite pick to make you look dapper, kurta styles is that bandwagon of all times that has never stepped down from the pedestal of comfortable, ethnic yet classy wear. Whether you want to pass a humid day or attend friend's sangeet, kurta is not just a quick pick but the perfect pick.
For those playful and experiment heads, pick these bits of advice and style your next kurta like never before:
Not so boring anymore, Straight Kurta
A perfect comfortable pick, add quirkinesses to your mainstream simple kurta by adding multiple slits or having a buttoned upfront that can change the kurta look from casual to that of a designer, making it perfect for your next sangeet functions. For those who believe in classics, bandhgala kurta is the best pick in a straight fit for that sleek and chic look.
Nothing above classics
From generations, we have seen that the look of a pathani suit and churidaar kurta in unmatched. Comfortable yet stylish, they are must for every wardrobe. Slip into chic Kolhapuri to ace up your casual wear game. You can either go for a shirt collar or curved hemline as they accentuate the look like nothing else.
Some glitters are not gaudy 
Rev up your style by acing a sleek golden KURTA SET, it could be short or long. With a motif of florals, elegant prints and embellishments of embroidery, this could be a perfect kurta pick for wedding season. You can also twist the look by pairing it with denim and casual slippers to give a street style vibe.
Symmetries are cliched
Go for asymmetrical designs that are unconventional but leave people in great awe. Asymmetrical fronts with uneven folds can soothe your eyes with a new twist to your outfit. Clubbing it with narrow pyjama bottoms, denim with Juttis or Kolhapuri can turn your simple wear to a bespoke style.