A perfect, casual and comfortable pick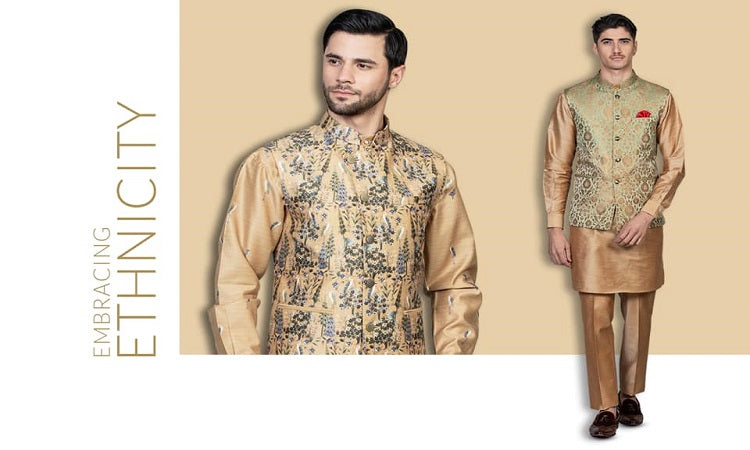 While deciding on the traditional wear for men, kurta pyjamas are the best pick over other outfits. Reason being, a perfect blend of comfort and style. Hands down, it is a fail-proof pick that one can never go wrong with. Breaking the bubble here, what might seem a staple outfit and a safe pick, can be played around with innumerable twists. From playing with fabrics, deciding on designs and patterns, colour play to mix-matching contrasts, one can style this in many ways with a flair of creativity.
Churidaar for unbeatable royalty:
Perfectly regal and royal, kurta pyjama can be paired with churidaar and twisted neck design to give it a modern and chic twist that makes the outfit stand out in the crowd.
Unbeatable Nehru jacket:
Pairing your kurta with Nehru jacket and perfect pocket square is the most royal pick that never goes wrong. All you have to take care of is perfect fabric, complementing colour and pattern and right confidence in place to ace the look.
Go gaga with Harem pants:
A classic combination, kurta with harem never fails to impress. Comfortable and easy to carry, its a perfect stylish pick for Mehendi, office party or Diwali celebration at home. Top it up with Nehru jacket to further give an edge to your look.
Drapes, asymmetrical and whatnot:
To those who want to break the mundane look of kurta pyjama, go for asymmetrical and drape styles of kurta and make a statement with top-notch confidence.
What might seek a simple and casual pick, if done right with creative hats on, can up your game. Traditional menswear has limited scope for change, but with simple yet experimental twists to the kurta pyjama, it can give a break to this traditional wear from the mainstream. Its time ti revolutionalise your casual wear too with many Kurta Pyjama set online available to shop from. Gone are the days when Kurta Pyjama options were limited to certain styles and patterns, now there are brands like Bonsoir who provide bespoke design options matching your needs and trends.