Nehru Jacket: What Is it And Why Is It So Popular?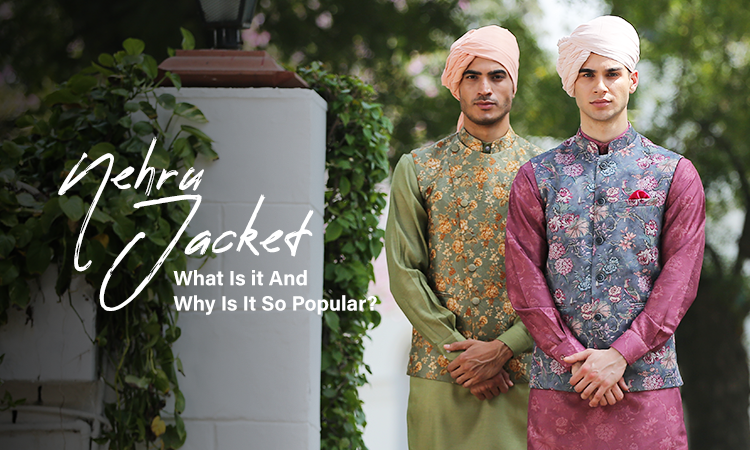 The Nehru Jackets have been in the Indian traditional men's fashion section for a long time. It has been popularised by Indian Prime Minister Narendra Modi, who wears it mostly at every type of event or public appearance. However, Nehru Jacket is famous for its minimalism and its use of indigenous khadi.
However, Narendra Modi is not the only one who has been wearing a Nehru Jacket. It has been popularised by many other personalities as well. There are certain trivia to Nehru Jacket which will blow your mind. Read further to know more about the popularity of the Nehru Jacket.
The very entry of Nehru Jacket in mainstream pop culture was through the Beatles, the English rock band. John Lennon's jacket was recently found after 40 years! How fun it is to think that an English rock band who rolled classics such as Come Together, Here Comes the Sun, Let it Be, or the classic John Lennon hit singles Imagine.
 Monkees and the Nehru Jacket
"I salute any man that can wear an open Nehru jacket with a purple cowboy hat and love beads and make it work." This was a reference to Davy Jones' appearance in an open Nehru Jacket with a cowboy hat put on. The famous Papa Gene's Blues star appeared multiple times on screen as well as live shows in his iconic Nehru Jacket. The classic sub-culture of the 60s, which also involved psychedelic rock bands, made this piece of Indian heritage famous as a show of allegiance to India and it's then Prime Minister, Jawaharlal Nehru, who condemned the Vietnam War.
Journey of the Nehru Jacket in the late 60s and early 70s
Men wore the Nehru Jacket in the 1960s and early 70s in Europe and America paired with trousers. Nehru used to be a fashion icon for many celebrity fashion designers and is still an integral part of our culture. Elite men and women used to wear Nehru Jackets at house parties. It was regarded as a luxurious product and was affordable only to a certain section of society which is why it is still regarded as a royal fashion product. There used to be variations in the jacket, yet they were all called Nehru Jackets.
Nehru Jackets are mostly worn in India during the marriage season. Thanks to its royal feel, minimal designing, and varied patterns and colour availability, it was worn by many celebrities and style icons of that time.
Hence, Nehru Jackets are an important cultural export of India thanks to our own first Prime Minister's influence on world politics at that time. It has been accepted and highly regarded as an elite piece of fashion and is worn on special events only. So, after knowing all about Nehru Jackets and their interesting history, we are sure that you are looking to own one!
Well, no worries! Bonsoir offers a wide collection of Nehru Jackets in all colours and patterns to suit your style. Head on over to Bonsoir to shop for Indian Menswear and rock the next event you attend.