Everything You Need to Know Ethnic Wear Indo Western Achkan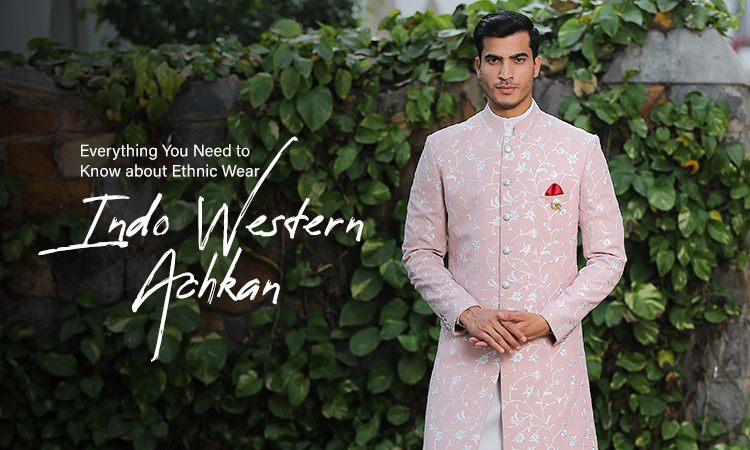 The ethnic wear Indo-western Achkan is a tailored, form-fitting jacket-like garment that is currently very popular among young men. The Indo-western achkan is particularly preferred because of the way it exudes class and presents a strong masculine look. Although it varies slightly in design from the traditional ones worn by kings and princes, it still holds power to make a man look and feel like royalty.
Achkan: Origin, Evolution, and Current Trends
Earlier in the Indian subcontinent, men, and particularly men of high social stature or belonging to the royalty, wore the tailored Angarkha. This garment is essentially a kurta with a flared hem. With subsequent foreign invasions and mixing of cultures, two new types of garments were born out of the Angarkha. These were the Sherwani and the Achkan.
 The current trend forming over the last decade has given achkans a modern twist and turned them into an Indo-western ensemble. This variation does not come as a surprise since Indo-western clothing covers 20% of men's ethnic wear. The new avatar of the traditional garment appeals to both lovers of the traditional as well as the modern.
 Achkan: Fabrics and Designs  
Designers have broken through the stereotype that vibrant floral patterns are too feminine to appear on men's clothing. The result is that floral prints, especially in ethnic wear, have become an increasingly popular trend. An ethnic wear Indo-western Achkan featuring a floral print paired with a solid-coloured kurta and churidar set is an ideal choice for numerous ceremonial occasions. 
 Everyone seems to have decided that symmetry is overrated, and it is time to embrace asymmetry. Asymmetric ethnic wear Indo-western Achkans present a sophisticated modern look that will make you stand out. 
 If you're selecting an ethnic wear Indo-western Achkan for a significant occasion, you must consider the many embroidered options available. Threadwork, self-design, and zari work embroidery are some of the most popular designs that present an adorning look. 
Intricately woven jacquard fabric patterns combined with the lustrous fabric present an overall luxurious look. This makes jacquard Indo-western Achkans the perfect option for when you are aiming for an effortlessly refined look. 
 Adding the little customization of a double flap can significantly change the overall look. Ethnic wear Indo-western Achkan designs with a double flap closure over the chest are a tribute to the older styles but with a modern touch.
 Achkan: Pairing and Styling
 Ethnic wear Indo-western Achkans, with or without a longer kurta underneath, can be easily paired with a variety of bottoms. These possible pairing options range from churidar and dhoti to Peshawari bottoms.
 For significant ceremonial occasions, you can wear heirloom jewellery like neckpieces, bracelets, and rings for an added charm. While for other occasions, pocket squares in matching or contrasting colours are a welcome addition. Finally, mojaris, mules, and Punjabi jutis are all perfectly suitable footwear options.
The
ethnic wear Indo-western Achkan
is a popular garment among men for ethnic wear, and because of this popularity, it is available in various fabrics and designs. Bonsoir aims to provide the best of men's fashion to you with extensive collections of premium ethnic and formal wear. Shop now and own some of the finest designs modern men's fashion has to offer.