A Brief Guide to Men's Wedding Attire in India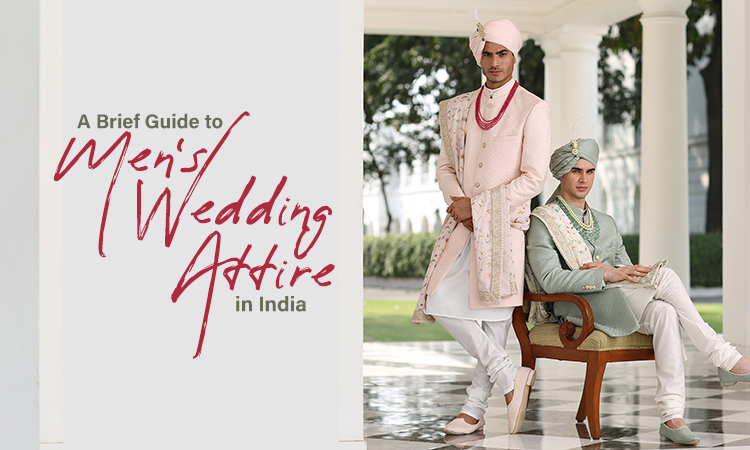 In the last decade or so, men's fashion has evolved rapidly in India. The styles in men's wedding attire haven't remained untouched by this evolution. A wedding is one of the most special occasions in Indian culture. Hardly anyone would like to stay behind in the fashion game on their big day.
While suits seem like an okay option as a wedding garment for Indian men, they lack the elegance and regality of ethnic wear. Traditional wedding dresses for men are not limited to just Sherwanis! There is an entire range of men's wedding outfits in Indian fashion that need more attention.
Let's discuss some of the best wedding attire options available in the Indian market.
● 
Nehru Jackets
Nehru jackets are close-fitting, tailored jackets. As the name suggests, these were worn and popularized by the first Indian Prime Minister. Nehru jackets are favoured for the sleek and polished look they give to the wearer. They also make the wearer look leaner.
The jacket can be paired with a kurta or Pathan suit to complete the look. Silk Nehru jackets are an apt choice for wedding ceremonies like Sangeet.
● Kurta Pyjamas
A kurta is a long collarless shirt that reaches the knees. It is paired with a straight trouser that is referred to as pyjamas. However, the pyjamas can be either loose-fitting or churidar-style. This is a classic wedding attire that is preferred by men who want to keep it basic.
Of course, kurta pyjamas for the groom are mostly heavily embellished and bright-coloured to suit the occasion. For a more dramatic look, a dupatta of contrast colour can be paired with them.
● Sherwanis
Sherwani is a long garment with a button-down in the middle. It resembles a long coat and is worn with a salwar or churidar. It's the most widely popular wedding attire for Indian men. The groom can complete the wedding look by wearing a turban and a statement neckpiece.
The exotic-sounding name is taken from a place in Azerbaijan where the male residents wear a dress that is similar to the Sherwani. Sherwanis were worn by Turkish and Persian men from the Mughal Empire.
● Jodhpuri Suit
Aristocrats in the Jodhpur region of Rajasthan wore the Jodhpur suit as formal attire. It includes a coat, trousers, and a vest. The coat or jacket is shorter than a kurta, mostly hip-length. Lush fabrics like brocade and velvet are preferred for the groom's Jodhpur suit. For a contemporary style, silk and cotton are good choices.
● Dhoti
Originally a religious garment, a dhoti is the most commonly worn men's attire in India, famous for its traditional vibe. Dhotis originated from south Nepal, where priests wore it in temples. A basic dhoti is an unstitched cloth wrapped around the waist and legs.
A dhoti is an apt choice for men who feel close to their cultural roots. Bright-coloured silk dhoti paired with a kurta is a popular alternative to sherwanis and kurta pyjamas as wedding attire. Visit our
website
and browse through a wide variety of options for different occasions, all in one place.