Latest Kurta Pajama Sets for Diwali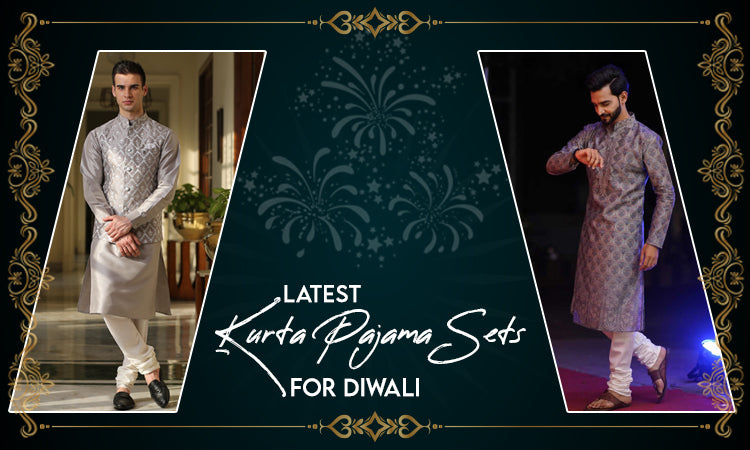 We are all aware that the Diwali celebration is rapidly approaching, and our shopping list is already prepared, aren't we? Without a doubt, Diwali is a wonderful occasion for everyone, and looking beautiful on this day is even more significant.
Men, like ladies, strive for ethical clothing to seem really fashionable and traditional during the Diwali holiday. Are you looking for traditional clothing to wear during the Diwali festival? So, here is a handpicked selection of the 8 Kurta designs that every man should have in his closet.  
Men's Kurta in Wedding Style
Why not choose the magnificent and highly elegant wedding style men's kurta in silk fabric material for Diwali special? The enticing embroidered work done on the silk fabric Kurta Jacket set adds a touch of elegance and sophistication. You may find this elegant costume for the Diwali holiday. However, make certain that it has an exceptional collar neck design!  
Kurta Pajama in Punjabi Style
This season, seek for the straight cut cream shade kurta pyjama with really wonderful embroidery work on the borders, neck, and sleeves. The highlight of the Punjabi style kurta and pyjama is that they are constantly in style and may be worn comfortably even on important occasions to appear outstanding. Simply select the appropriate pattern and type of Punjabi kurta pyjama, together with your favourite Jutti, and you are ready for the occasion.
Silk Brocade Kurta Pajama
What about a silk brocade kurta pyjama for the Diwali celebration? You can go for a stunning and vibrant orange silk brocade kurta pyjama for a flawlessly glamorous look throughout the Diwali celebration. For an ethnic look, choose the light mustard colour in this silk brocade kurta pyjama! Furthermore, you can flaunt the 'desi' appearance with a statement style jutti in footwear!  
Kurta Pajama in Royal Blue
This Diwali season, the royal blue Kurta pyjama with gold lace work on the sleeves and collar is just what you need! The dupion silk fabric is the icing on the cake in this ethnic attire, which is appropriate for any male to wear on a particular festive event such as Diwali.
Relaxed Kurta with Patiala
Here is another lovely kurta pyjama for the men's ethnic wardrobe collection, namely casual kurta with Patiala style salwar at the bottom. Wear this classy and sophisticated casual kurta with Patiala style salwar to stand out from the crowd. The casual Patiala style kurta pyjama is a stylish costume that you can wear for absolute comfort and style.
Kurta Pajama in Traditional Style
Why not choose something traditional and ethnic for special occasions this time? The rich cream hue kurta in pure silk cotton material with brilliant embroidery work is ideal for wearing and flaunting on important occasions!
Latest Ethnic Kurta Pajama Style
You may now find a wide range of modern and elegant kurta pyjamas for your wardrobe! For the Diwali season, a simple ethnic style kurta pyjama with minimal embroidery and ornamentation is suitable. The wonderfully coloured and designed ethnic kurta for guys is just what you need to spice up your wardrobe!  
Kurta Pajama in Maroon
What about the dark and striking maroon kurta pyjama? The unrivalled beauty and charm of the maroon colour, particularly in traditional kurta pyjamas, is utterly striking in appearance and feel. The exquisite embroidered work in unison with the adornments is one-of-a-kind and visually appealing. The raw cotton silk fabric kurta pyjama in maroon colour is the ideal addition to your wardrobe!
To sum it all up, these are the 8 Diwali kurta collection that every man should have in their closet!