The Ideal Guide to Designer and Stylish Kurtas for Men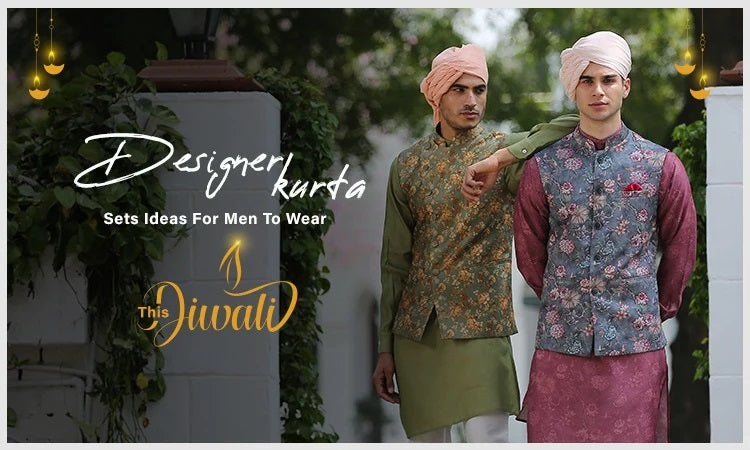 Kurtas have traditionally been the most popular and admired men's clothing. There are so many different types of websites to Buy Kurta Jacket set from. It even becomes overwhelming, yet the list is endless. There are many materials, designs, patterns, silhouettes, and so on.

Colors have also been used extensively in the fashion sector.
Kurtas are available for many occasions such as celebrations, meetings, meals, and outings. Kurtas are most popular in South Asian countries; however, the trend is rapidly spreading throughout the world.

Men's fashion interest is growing by the day. Men are becoming more mindful of what they dress, and they go to great lengths to look fashionable.

However, each man's preference is unique, and there are plenty of kurta pyjama set online for all of them. We have simplified your task by providing many sorts of kurtas below to assist you look more stylish.
Chikankari Kurta

A chikankari kurta combined with your favourite bottom will never go out of style. It has been popular in India since Jahangir's reign. Chikankari appears to be a never-ending trend. It is both classic and sophisticated.

Its best works can be located in Lucknow, India. These kurtas are appropriate for religious occasions, college fests, and family gatherings. Juttis or sandals are typically worn with chikankari kurtas.

You don't have to be concerned about the colours because this cloth comes in practically any colour. You can accessorise your appearance with sunglasses or a watch, and you're ready to go!
Bandhgala Kurta

This kurta is ideal for a wedding or a Diwali celebration. There are numerous ways to wear a bandhgala kurta. Over your kurta, you can wear a Nehru jacket or a sleeveless jacket.

Winter is the finest time to wear a Bandhgala since it is buttoned up to the neck and keeps you warm. Even the most basic solid colours look stunning with these kurtas. So, the next time you have to attend a wedding and don't know what to wear, opt for a Bandhgala Kurta and combine it with a white pyjama!
Denim Kurta 

Denim Kurtas are one of the best options for dressing casually while yet looking trendy. It can be worn with pants, jeans, or pyjamas. You can also wear shoes with these kurtas or whatever you choose.
Because denim is the latest fashion, these kurtas will also make you fashionable!
Kurta Pathani

What word comes to mind when you hear the phrase 'Pathani Kurtas?'
"Royal!" Right?

That is what distinguishes these kurtas. They speak for themselves. Pathani Kurtas are unrivalled in their elegance and regality. It is frequently linked with Muslims but is worn internationally, particularly in Asia. 

These kurtas are typically worn with salwar suits, but they can also be matched with a Nehru jacket or a simple waistcoat. Pathani juttis look great with these kurtas. Because it is more formal apparel, it can be worn to any festival or wedding celebration.
Short Kurta

Short kurtas are an essential piece of clothing for every man's wardrobe.
These kurtas are really comfy and light. Short kurtas are ideal for keeping things casual yet fashionable. They look well with a Patiala, jeans, or harem pants. 

There are numerous styles of short kurtas available on the market. You can select from a variety of fabrics, including white linen, khadi, and others. So, if you want to combine comfort and style in one kurta, choose for short kurtas right now.