Men's Tuxedo suits for wedding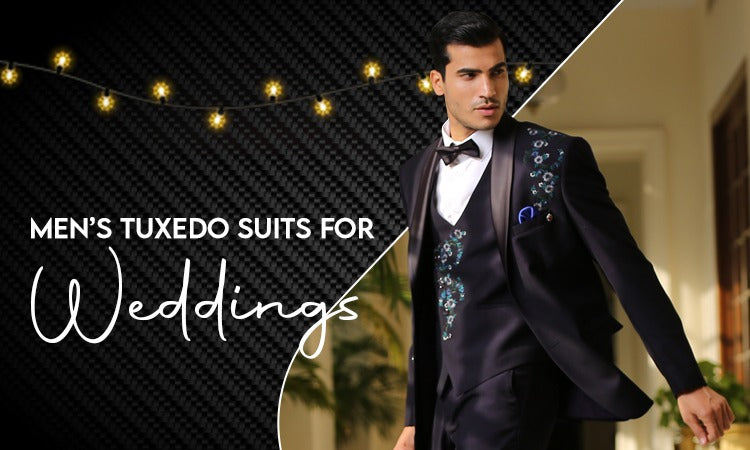 Men's clothing is all about limited choices but nowadays men's clothing is in trend. they have a collection of modern to traditional wear,  now they have options to style themselves up. There is more in their clothing and accessories like collar buttons, mirror ties, vasket, scarves, cufflinks, earrings for Men, and Rings for men. 
In India, people like to flaunt during the wedding season. The wedding season is a kind of festival in the nation. So, buying a wedding suit for men is a big task, what to buy? where to buy it?  what kind of accessories are needed with that and the list goes so on. 
From Groom to mates have a wish list about what to wear?
The styling but the designer outfits have characteristics that set them apart from a traditional suit. These days many grooms are showcasing their individualities and prefer to wear tuxedos in a variety of colours, including shades of grey, blue and solid colours. Even tan colour tuxedos have a huge demand at weddings.  
Men usually like to carry tuxedos for evening or night functions and formal occasions like charity galas and nights at the opera. For a formal occasion or a night wedding or prom, a tuxedo is the best option available in the market. 
While buying a tuxedo for a wedding, do remember these points to check.
Satin (Fabric): The tuxedos have satin-faced lapels and satin
Designer tuxedos use fewer pieces of satin to slim trim on the lapels and a stripe down the pant, but this is still considered a tuxedo.
Tuxedos are mainly made of satin clothing. it has little shinny and shimmery texture which enhances the outfit according to the occasion.
Accessories: Tuxedo accessories include a cummerbund, waistcoat, suspenders and a bowtie. these days men opt for fewer accessories.  Long ties and high-stance vests are now acceptable to wear with tuxedos, depending on your style and how formal you want to look.
Styling a Shirt:Tuxedos are worn with white shirts that have either a wing collar or a turndown collar. Tux shirts have  French cuffs because they are worn with cufflinks.  
Shoes:Black or Brown derby or oxfords shoes are usually worn with tuxedos.
Pants: Tuxedo pants have satin stripes outside of them and are combined with a sash. It is really common to wear black tuxedo pants, even when you are carrying a blue tuxedo jacket or a white tuxedo jacket as an outfit. It is your call, Even you can try wearing a white tuxedo jacket, it will, even more, highlight a black bow tie, red square pocket and white tux pants. A powerful exclusive outfit.
Concluding with that, if your wedding functions are at night, a tux is the perfect outfit to go for but do remember to have your comfort, style, and the outfit colour suit you well. sometimes because of fashion, we ruin our dressing sense. and things don't look how we planned it plus don't forget to coordinate your accessories with your outfit.