Expose, Express and Explore with Bonsoir's Latest Apparel Collection For Men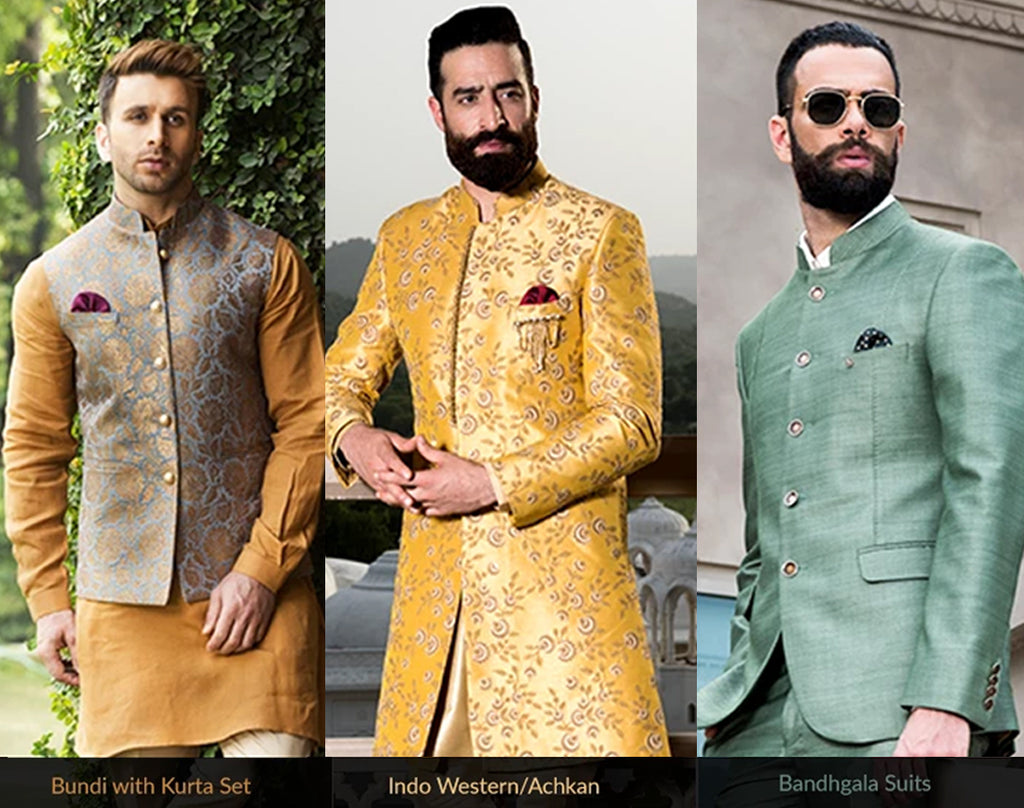 "Trendy is the last stage before tacky"- Karl Lagerfeld
It is true that men are born as unfinished animals, and it is the backstage support of cultural and social values that leave a major impact upon the adoption of basic style, fashion and manners. An individual begins his or her life journey from imaginary stage to attain symbolic stage. It's obvious to state that when we were kids, our parents used to decide what and how we are going to wear for any particular event. But once we hit adult stage the sole jurisdiction to freely indulge in art of dressing-well easily falls in our hands. At Bonsoir, we assist every man to choose a garment that well- accentuates his individual self, reflects deep respect for every custom and sets his mood according to the function.  
It is hilarious to see that ladies have a bad habit to say-I have nothing to wear, even when we can clearly see a heap of their clothes just running down their wardrobe. Then, how can we expect any men to simply adjust and satiate themselves with limited clothing options? So, Bonsoir makes sure that no men go style deprived in any way. Thus, Bonsoir brings an array of apparel collection being carefully created by our highly experienced fashion professionals.
FEEL HIGH ON PERSONA! HIGH ON STYLE! HIGH ON LIFE! TO MAKE YOU REACH EVERY MILE WITH BONSOIR'S APPAREL COLLECTION FOR MEN:
A CLASSY FORMAL LOOK: Whether, it is a business meeting or any party event that you have to attend, a classy formal suit never goes out of style and remains a must-have for every man. Bonsoir brings its wonderful range of formal or business attire that makes you feel comfortable, sophisticated and adds a touch of elegance to your overall disposition.
A SASSY PARTY LOOK: Party time is the best time to showcase the best in you. So whether it is a wedding function, a social gathering or office party, Bonsoir is one-stop shop to meet your essential style and clothing requirements. We got to spoil you with our wide range of men's party wear collection. We never run short of latest collection all around the year – right from tuxedo, checkered suits to waistcoat outfits. Each and every cloth is made with the finest materials and is available in some of the most exquisite colourful shades. Each suit has been exclusively tailored to give you a trendy look. You can be a natural scene-stealer to any party in Bonsoir apparel.
A SANSKAARI HINDUSTAANI LOOK: India has incredibly accepted every cultural tradition and appreciates it with a larger than life festivities and celebrations. And on these auspicious occasions, we love to revive the touch with our roots & traditions and adorn ourselves in traditional attire. And because Bonsoir gives equal respect and importance to every cultural tradition so it brings a plethora of options to devour in richness of our traditional attires.
The ethnic wear section at Bonsoir has been style-checked into the following three major categories-Bandhgala Suits, Indo- Western Outfit, and Bundi with Kurta set.
Bandhgala suits or Nehru ji style: Bandhgala or Nehru suit remains among one of the most popular choices to suit both formal and informal occasion. Its distinctiveness rests in its mandarin collar. You can well-team it up with a pair of trousers. One may also experiment a little and wear a Bonsoir Bandhgala as a blazer.
Indo- Western or combination outfit: Anyone out there who wants to add the best of both the Indian & western touch to their outfit must not miss to opt for Indo-Western outfit from Bonsoir apparel collection. These attires are popular due to its traditional embroidery works.
Bonsoir provides a wide range of Indo-western outfits designed used fabrics such as silk, georgette, cotton, rayon and khadi.
Bundi with Kurta set: Bonsoir provides a range of bright coloured Bundi with matching as well as contrasting Kurta set. This outfit is going to make many heads turn to catch a glimpse of your graceful personality.
So, before your beloved lady can't still decide whether she does or doesn't have enough clothes to wear. Bonsoir family got each & every man dressed for every occasion. Scroll at the latest clothing for men with just a click at our webpage.
Style more and stress less with Bonsoir!