Knock Knock Open the Door and Get Style Arrested at Bonsoir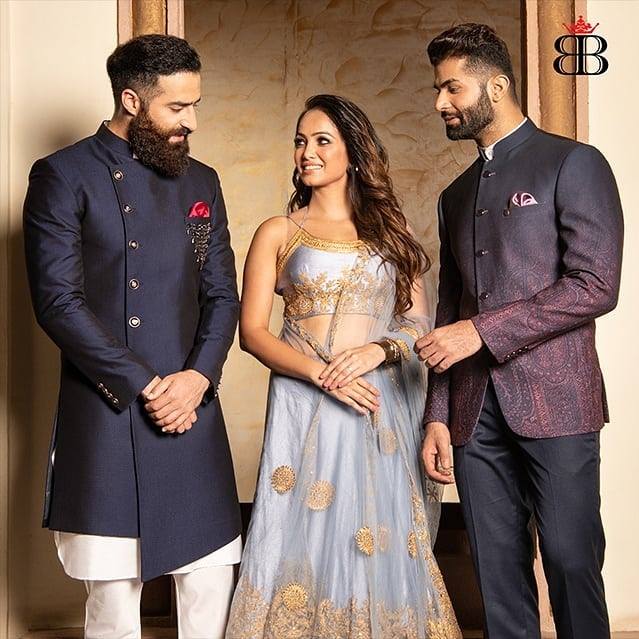 Milton's – Paradise Lost depicted how Eve got enticed by Satan and lavishly devoured over forbidden fruit. This tragic event resulted in the dismissal of Eve and Adam from Garden of Eden and marked the loss of paradise as well as the loss of innocence. They didn't have a decent wedding or a reception party before they both became our first parents. Also when they both landed on earth they didn't have any fashion sense and they were completely fashion deprived.  So, just like Eve and Adam if you think you don't have enough clothes or can't decide what to wear to a wedding or reception party. Then, Bonsoir is here for you as your ultimate fashion guide.
Bonsoir clothing family feels sad that we didn't cloth cover our first creatures. But, Hey! We are here to cloth and style you. At, Bonsoir we understand that every human being is unique, have desires, want good clothes to wear and have many wedding or reception events to attend in his life. We make sure that when out at a wedding or a reception party, people are not only enjoying good music, eating delicious meals and only checking hot chicks out there. What about men? Don't we need any attention? A handsome hunk dressed in bonsoir apparel too deserves to eye-catch and win many admirers. Bonsoir holds a wide range of apparel collection being carefully crafted by some of our highly fashionable peeps. Thank us later if attending a wedding gets you a wedding proposal and people teasing you- Agla number tera hai!!
WHETHER IT IS YOUR YAAR KI SHAADI OR YAAR KA RECEPTION, BONSOIR GOT YOU COVERED FOR EVERY OCCASION: A marriage or a reception ceremony involves every person to become a valuable helping hand in booking and arranging the event hall, decoration, caterers, musicians, guests and so on. At that time you can't move to and fro to buy a nice suit for yourself. Then, Bonsoir comes as your ultimate fashion spot because the style and quality of our clothing products are never going to be a perfect choice for you.
This is 21st century and it means that dress code rules have now modified, neutralized and styled themselves in a way to make dressing more experimental, fun-loving and fashionable for you. So, don't feel afraid to pick and try some nice and versatile clothing collection at Bonsoir.
A CLEAN SHAVED AND BLACK TIE LOOK: A reception is always organized to give a decent wrap to fat and chubby wedding event. Adorn a classic and traditional look by picking a Bonsoir black tie dress for the reception event. A black tie dress will highlight the much-needed ease, comfort, style and sophistication to your overall disposition. This black tie outfit consists of a white shirt, black trousers, black leather shoes and a waist coat. This is going to be a smart choice for an evening reception. And don't forget to perform a clean shave and you are not going to look less than our favourite- James Bond.
A SHORT AND SMART SUIT LOOK: Skirts, midi's, frocks, shorts, gowns for women. And now we have a short and smart suit for men as well. If it is going to be a summer reception we are not going to make our handsome men sweat and soak their bodies in the sun. So let men also have the opportunity to flaunt their legs with a Bonsoir's short and smart suit collection. You can well combine this with a sports jacket made up of feather light material such as cotton and linen. And there you are ready to enjoy the event.
A BANDHGALA SUIT LOOK: This Nehru style suit has earned a lot of popularity in the wish list of many men who want to look perfectly tradition at a wedding party. The most emphasizing part of this Bandhgala suit is its mandarin collar adding a touch of cultural sensitivity to it. Team it up with a nice pocket square and no one can stop you from reflecting the sanskari side that you have.
THE INDO-WESTERN LOOK: Can't decide whether to opt for a sherwani or a pencil-fit formal trousers? What if we tell you that you can wear both? At, Bonsoir we come up with the unique technique regarded as combination. Here, we help you creatively combine a long ethnic kurta with western style pants. This look is a perfect choice for a wedding event that you are going to attend. 
Knock at our online store, pick up some unique pieces from our collection, try it and buy them here at Bonsoir.