Best Wedding Sherwani For Grooms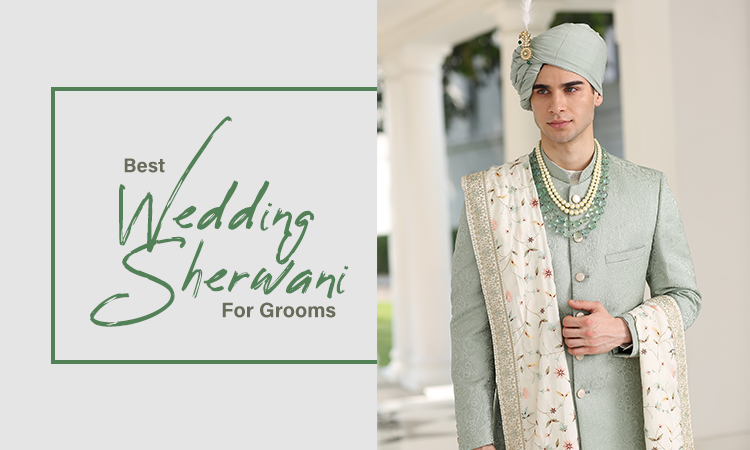 When it comes to the groom's wedding, the sherwani has to be perfect. An Indian wedding is unimaginable without a glamorous sherwani. Not only in India, but these wedding dresses have gained popularity all over the world. Are you getting married soon? Buy a new wedding sherwani for a groom. 
Sherwani is a long coat-like garment that is buttoned to the neck and with the length usually extending just below the knee. With exquisite handcraft work and intricate designs, Sherwani with jewels is the most common dress for groom at their weddings. 
Since the time of kings and provinces, Sherwani has been in India and is the main costume of the Rajput clan. Since then, the grooms have chosen Sherwani for Indian weddings. Indian Wedding Sherwani surpasses all other ethnic costumes with rich handmade fabrics such as Banarasi silk, cotton, jute, linen, silk, and velvet.
Types of Wedding Sherwanis for Grooms 
Chipkan Sherwani - This type of Shervani, also known as Mughal Shervani, has a traditional appearance. Chipkan Shervani is richly decorated and made of exquisite jacquard fabrics to make the clothing look magnificent. 
Achkan Sherwani - This Sherwani Kurta has a cut similar to Bagal Bandi or it comes with a separate Achkan jacket. In the case of Achkan Sherwani, kurta is usually knee-length and has a row of tilted buttons, very similar to angrakha. Sometimes frock-style sherwanis are coupled with achkan jackets also. 
Angrakha Sherwani - This type of sherwani is very definitive in look. It either comes with a diagonal button placket or the drawstrings tie in the same way around the waist. These have been around for a long time and still, grooms love to wear them on several special occasions. 
Anarkali Style Sherwani - This is also a very traditional style. In this case, sherwani Kurta has a fit and flared cut, usually very long with flared edges. These Sherwanis are best matched with churidar pants. Variations may include the addition of floral front open jackets or achkan jackets. 
Jodhpuri Sherwani - This sherwani focuses on the cut and style, and not on the embellishments. They are usually made of rich silk and brocade, and even pure wool. These types of Sherwani provide intricate designs and are a bit expensive. 
Indo-Western Sherwani - This is a broad category that includes all sherwanis in modern and contemporary cuts. The Indo-West style includes everything from Achkan-style jackets with straight trousers to summery floral prints on a sherwani. Floral designs with light shades are the most loved ones. Currently, these are too much in trend. 
Jacket with Sherwani - Waistcoats, long-sleeved jackets with open fronts, and even knee-length Achkan jackets are combined with this Sherwani. This look creates a handmade jacket on Kurta. Wear it with long pajamas or other bottoms. 
Sherwani in Contemporary Prints - Printed Sherwani is becoming more and more popular, especially at morning weddings. This type of sherwani for grooms comes in pastel hues and has even fresh bright colors.
If you have chosen to shop for
Grooms Sherwani online
, you have come to the right place, because
Bonsoir
only offers the latest designs and styles of
Sherwanis for the groom
. There is nothing better than shopping in the comfort of your home, so start now!