Be the talk of the wedding season with Bonsoir outfits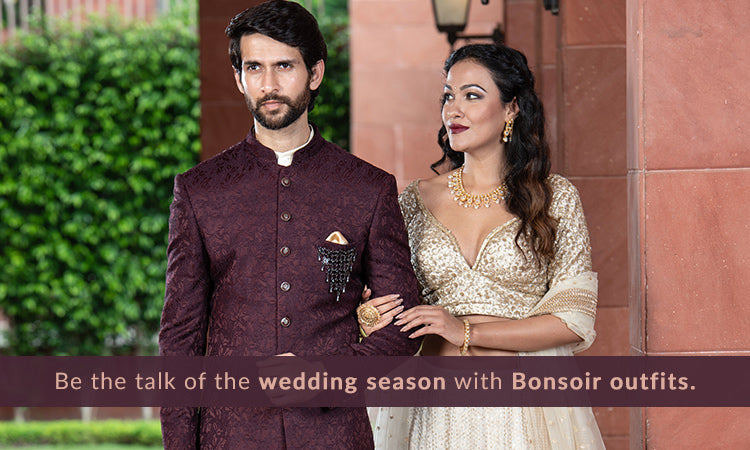 It's the wedding season and intermittently, the wedding invitations are knocking at your door. While for some it might be just about attending the wedding, for most men it's an opportunity to flaunt their style and fashion. An opportunity to be the talk of the wedding function through the fabulous look and outfit.
Interestingly, there is a stereotype that wedding glamour is always women-centric. Most people believe that when it comes to outfits, it's only the women who have the luxury of options.
Bonsoir as a leading men's fashion brand
does not subscribe to this skewed narrative. In this blog, we will showcase some of the magnificent outfits that add an extra spark to the persona of men in wedding functions.
The Royal Sophistication with Bandhgala
When it's about flaunting out regal charm in a wedding function, nothing looks more appropriate than the exquisitely crafted Bandhgala. Its razor-sharp silhouette emits an air of formidably royal sophistication. Seamlessly lavish, this outfit embodies the luxury of aristocratic era.
The timeless Elegance with Kurta-Bundi
As it is said that simplicity is the best form of sophistication. This goes apt for Kurta. Wearing a Kurta for a wedding function never goes out of fashion. Clubbing it with Bundi adds a seamless charm and perfection to the personality. It's like a cherry on top of the cake. This outfit is also appropriate for the wedding engagements.
The seamless opulence of Achkan
Hardly a few years back, Achkan was considered an outfit only for the groom. Recently, this knee-length coat, which is quite similar to Sherwani, has become a popular choice among men as an outfit for the wedding function. When coupled with pant, this outfit adds a
perfect indo-western
blend to the personality. It's for those who don't wish to keep their outfit completely ethnic.
When deciding what to wear on a wedding, it is always important to understand what suits your personality. Generally speaking, never wear an outfit in which you don't feel confident.
Try the premium range of Bonsoir outfits exclusively crafted for the wedding season.