A STYLE GUIDE- ENGAGING OUTFITS TO WEAR IN AN INDIAN MARRIAGE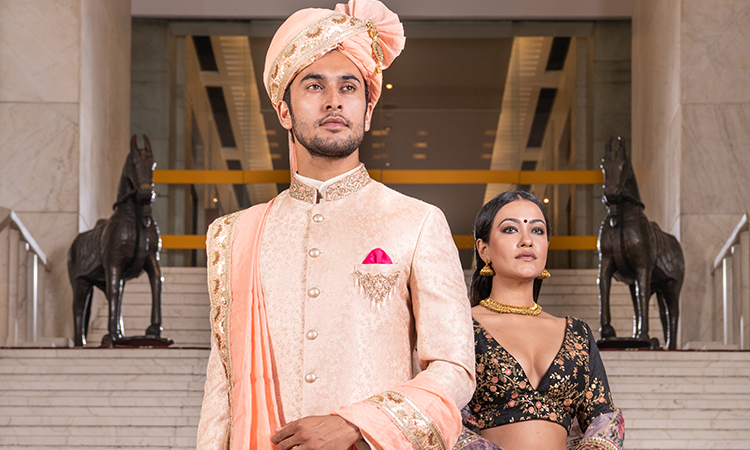 Indian weddings in itself have about several different events that you must attend. From Mehendi to sangeet, one has to prepare for so many unique outfits to look presentable and tidy. Since weddings in India are the most fun and joyous occasions, wearing elegant outfits count in making your memories even more memorable.
With so many events, picking out your ideal outfits can be overwhelming. Wedding seasons can be pretty glamorous which is why looking your best will make you feel more confident and also look more engaging. So if you've wildly been searching for a set of outfits that you can wear to your friend's or cousin's wedding, here are a few ideas that will guide you in choosing the most mesmerizing outfits-
You can wear the most basic outfits in events such as sangeet, Shagun, and cocktail. You don't have to go looking very grand. So keep it simple. The outfits that you can wear on these events are-
1. Pair of Kurta Pyjama
- A minimal embroidered
kurta pajama
of any vibrant color is the most recommended outfits that you can wear.
2. Designer Kurta
- If you like wearing embroidery kurtas or kurtas with more details, then this piece of clothing is the perfect fit for you.
3. Kurta with a jacket
- Half jackets have become fairly trendy right now. If you have a muscular physique, half jackets with kurtas will let you flaunt your biceps making you look even more attractive.
4. Nehru jacket with a full or half-sleeved kurta
-
Nehru jackets
have a weird attractiveness to them. They instantly make you look appealing and pleasing. So, show off your charm by wearing this gorgeous outfit. You can pair them with any formal trousers.
5. Jodhpuris with a shirt and jacket
- Jodhpuris are undoubtedly the fanciest ethnic trousers than you can wear. If you want to look unique yet alluring, this outfit is a must-wear. With the proper color-coordinated shirt and jacket, you'll look flawless.
Coming to the
wedding outfits
, these are certainly the main outfits that you should focus on. You might now know but the way you choose to dress shows a lot about your personality. To make a good impression on your friends and family, picking a perplexing wedding outfit is essential.
1. Sherwani with a churidar
- Now, remember, you don't have to look as grand as the person getting married. All you have to look for while picking the perfect outfit is to see to it that it is a modest and aesthetic looking outfit. Beige is the most attractive color for most traditional outfits. So pick a pastel color Sherwani to both look handsome and to feel confident.
2. A dupatta with an embroidered sherwani
- Sherwani is certainly the most fascinating outfit that men can wear. Purchasing a Sherwani suit which includes a dupatta is a great outfit that you can wear at weddings. Off-white and light shade Sherwanis are perfect for weddings.
3. A Sherwani of intricate designs
- If you like wearing detailed clothes, Sherwanis that comprise detailed stonework and other such components are the perfect fit for you. A red or yellow detailed sherwani can make you look well-groomed and striking.
For the reception, it is best to wear formals, preferably tuxedos or suits with minimal designs. A plain black tuxedo with a white shirt or a black suit with vague designs is the most fascinating reception outfit you can wear. It is important to choose outfits in which you feel most comfortable and self-assured. So, go ahead and choose the most authentic outfits to boost your confidence and have a pleasant time on this wondrous occasion.