CHOOSING THE PERFECT OUTFIT FOR CELEBRATING YOUR WEDDING ANNIVERSARY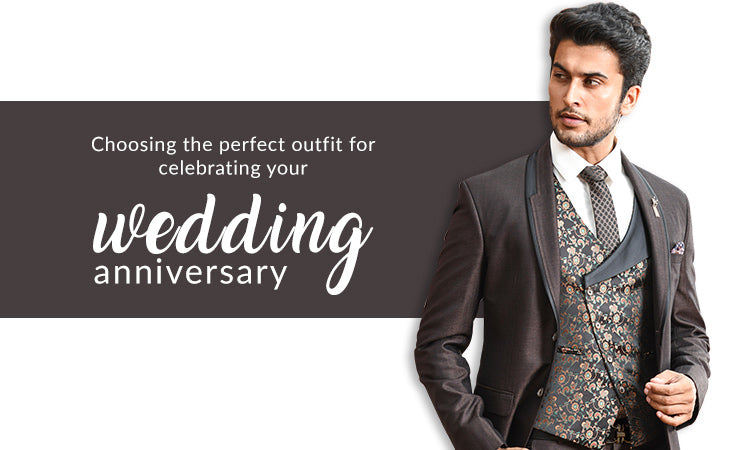 Anniversaries have got to be the most beautiful occasions that you can celebrate with your significant one. It is a celebration of all the memories that you both have had together until now. Even the minutest gestures such as celebrating your anniversary play a big role in celebrating and appreciating your partner. Moreover, if you're into parties then you can have the most authentic time with your friends and family while celebrating you both.
Often, men indulge themselves with planning the anniversary party that they forget to focus on other elements such as choosing a good outfit. You might think that choosing outfits is a secondary deal, but let me break it to you. Wearing the perfect outfit is a must if you want to look your best on this auspicious occasion.

So here are a few ideal outfits that you can choose to wear for your anniversary-

If you are planning a grand anniversary part such as a dinner night at your place or a hotel, it is a must to look neat and well-groomed. It is also important to look at factors such as picking a proper combination, wearing formal accessories only on formal clothing and wearing informal accessories only on informal clothing to look fashionable.

The most preferable formal outfits that you can wear in glorious parties are-
Suits- It is best to twin with your partner. Wear an elegant shade suit that matches your partner's outfit. Accessories such as a bow or a tie can be a great match to your outfit. It is necessary to keep it simple and basic because you're celebrating your anniversary.
Dress shirts- If you want to dress up classic but still want to look highlighted, a dress shirt is a perfect fit for you. You can style them with suits or even fancy trousers.
Wear accessories- Be it suits, blazers or a dress shirt, wearing accessories with them is just the best way to look stylish. Wearing shoes such as monk strap or pairing up a matching bow with your outfit is the perfect way of enhancing your look.
Informal outfits, on the other hand, are suitable for casual or small parties that you want to celebrate with your close friends and family only. Casual outfits are a great fit for going out for dinner with your significant other or even just going out for a casual date. 

The best casual outfits that you can wear on your wedding anniversary are-
Denim wear- denim is just the trendiest and the most sophisticated type of clothing that you can wear. The best part about denim-wear is that you can style them with any casual clothing and still look your best. The best clothing that you can wear with denim jeans is a plain T-shirt preferably black or white.
Shirts and T-shirt's- A floral shirt or a plain T-shirt can give you a casual yet voguish look. Checked Shirts are the most fancied clothing in today's generation and are perfect for every occasion.
Accessories- Again, all types of clothing require matching accessories to look well-organized. So pairing up your outfit with a jacket or sneakers are a great way of looking presentable and tidy.
We hope that the above information helped you in concluding your desired outfit. Remember to choose an outfit that is both comfortable and looks extremely charming. Anniversaries are a once in a year occasion so pick your outfit wisely and make this anniversary count.