A Guide to your Independence Day wardrobe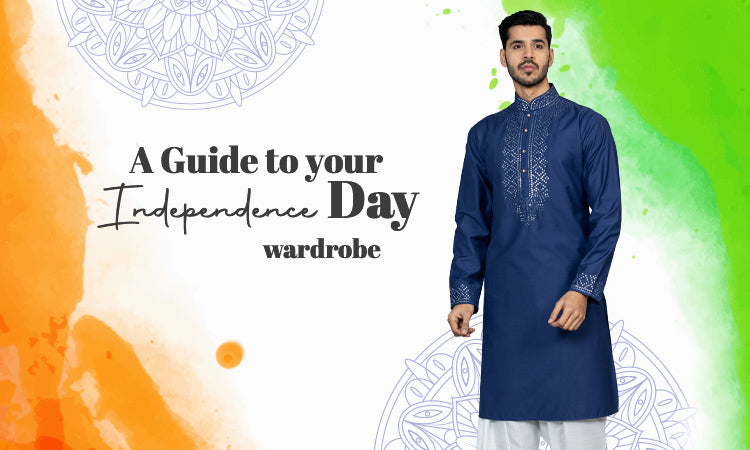 After years of slavery, we finally have the liberty to live with our chins up. It is important to remember and acknowledge the efforts of the people who gave us this country and a life that we can live freely without anyone ruling on us.
The ideal Independence Day dress should reflect your enthusiasm and love for your motherland, your nation. And what better way to show your love for your country than by donning the three colors that symbolize republicanism, liberty, and revolution—the saffron, white, and green of our national flag—which are also the colors of our independence. Wear your freedom with these carefully chosen costume ideas from our hand-picked selection as we are here to assist you with Independence Day outfit ideas to make you stand out from the crowd.  
White it up with denim
Try pairing a white kurta with blue denim jeans if a sherwani is not your style and you prefer a more laid-back look. Style up your hair neatly with the help of a hair gel. Wear an analogue wristwatch to accessorize your hand. You can also try some bracelets like tricolour bands. This will make your clothing pop.  
Suit-up the sherwani
What would be better than diving into your culture and draping yourself in it? Sherwanis are your go-to for any Indian cultural event. Make sure the sherwani isn't garish and loud if you intend to wear one. It ought to be lightly tinted with saffron, white, and green. A Jodhpuri sherwani in blue with white designs and Kesari-colored tassels hanging at the end is another option. To complete this glam style, be sure to wear Kohlapuris.  
None of the outfits is complete without accessories. Have a look at the combinations mentioned below to accessorize your Independence Day look.
The most important accessory initially is the identity of your nation. Pin up your kurta or saree with a flag pin before stepping into Independence Day.

Try to stay minimalistic with your accessories. Go for light shades and light weighed accessories with your plain outfits. This protects you from coming off as too loud and tacky.

Tricoloured bands and bangles are always in trend during this time. Even if you do not have time to get a tricoloured one, go for different colour bangles from a local vendor or a street hawker. Street hawkers during the festivities have a variety of accessories.

The most important thing is to go for your comfort. Make sure whatever you decide to wear, is comfortable enough for you to be at peace. 

 
Apart from these Independent Day outfit ideas, let us tell you about huge celebrations held on Indian Independence Day both domestically and abroad. After a century of battle, we finally have our independence, and we must celebrate this happy day of freedom, sacrifice, peace, and truth as best we can. Singing songs about the independence struggle and hoisting the flag with a different zeal of patriotism that permeates the atmosphere and fills people's hearts are two ways that we can express our gratitude for our country.