A Guide to mens dress codes for all occasions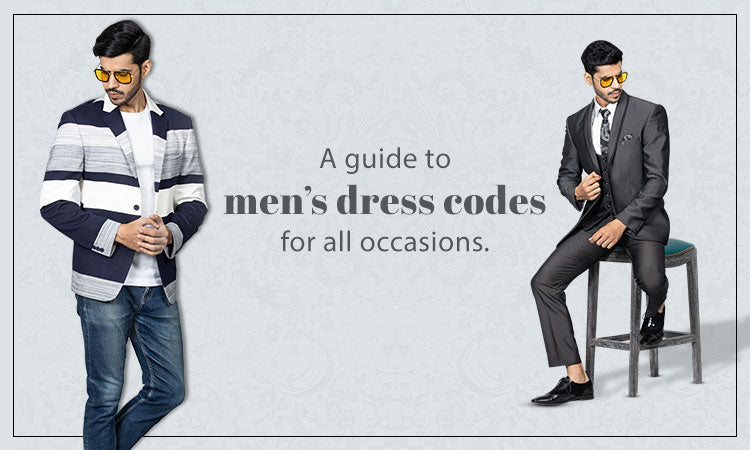 At present, Indian wedding dresses for the groom are a blend of western styles, traditional Indian attires, fusion looks and casual and semi-casual looks. Over the years, Indian wedding dresses have evolved and the grooms have multiple options and styles to choose from. They have infinite choices when it comes to choosing fabrics, colours and prints. In this blog, we present a guide to men's dress codes for various occasions.  
Jacket-Trouser
Opt for a jacket and trouser combination if you want one of your wedding ceremonies to be stylish and chic. You can style comfortable trousers like chinos with a trendy jacket or a formal one, depending on the occasion. Choose between a casual t-shirt and a semi-formal shirt to change the look further.  
Best occasions to sport this look:
For the bachelor's party or the pre/post-wedding photo shoot, wear chinos trousers with a sporty jacket.
For a bachelor's party, pre/post wedding photo shoot or a sundowner party, wear trousers with a semi-formal blazer.
Jodhpuris
Very similar to a sherwani, Jodhpuris or a Jodhpuri suit is like the attire the royals of Rajasthan wear for formal occasions. The bottoms are like riding pants. These are loose above the knees and become tight as they go down, along with a thigh link coat. As compared to a traditional sherwani, it has a more modern and stylish look.
Best occasions to sport this look:
Jodhpuris rich in fabrics are best suited for the wedding ceremony. Look class apart in your wedding attire by teaming up with beads, a brooch and a turban/safa.
Those in a lighter fabric and more subtle colors are perfect for reception and engagement ceremonies.
Formal Suit
A formal suit has emerged as a popular pick despite not being traditionally worn as an Indian wedding dress by the groom. There are many grooms that like no-mess, comfortable and a dapper look of a formal suit over traditional wedding attires such as sherwani or kurta pyjama. This look has multiple options like a tuxedo, a two or three- button down suit, a three-piece, or just a waistcoat look. All these looks of a formal suit are extremely stylish that never fail to impress.  
Best occasions to sport this look:
A tuxedo for the reception ceremony
A waistcoat for sangeet or bachelor's party
You can wear a formal suit at the reception party, engagement party, cocktail party, and sangeet ceremony. You are all set for the wedding ceremony with an embellished brooch and a turban.
Denim
There are some occasions that require you to choose comfort and casualness over style, but there are a few outfits that have all these qualities. Your wedding wardrobe is incomplete without your favorite types of denim, capris, and shorts. Play it cool by looking like an extremely stylish groom! If you are getting married during the day in the summers and that too in an open space amidst vibrant colors as part of your theme, then wearing denim would definitely become a style statement. You can flaunt this fashionable look with ease and comfort.  
Best occasions to sport this look:
For your sangeet, mehndi or haldi lunch function, pair jeans and a crisp white shirt. You can also wear it for your pre-wedding shoot.
Your favourite jeans, shorts or capris with a cool t-shirt will be ideal attire for the bachelor's party, a sundowner pool party or your pre-wedding shoot.
Want to buy sherwani online for your wedding or any other ceremony, then check out the latest and trendiest collection at Bonsoir. With a number of options in colors, fabrics and styles, pick the best one as per your requirements.