Top mens ethnic wear trends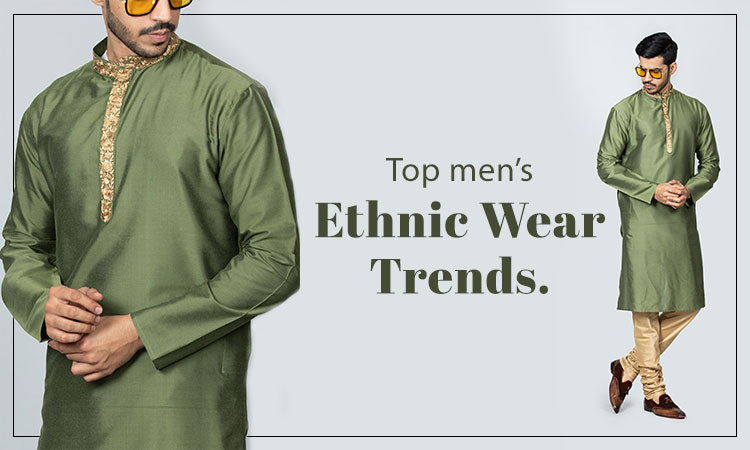 Women have never-ending choices when it comes to ethnic clothing. They have ghagras, lehengas, sarees, and what not! They always have the luxury of overwhelming clothing options. Until now, the same could not be said for men. Earlier, apparel for men was limited and there was no room for experimentation. But the whole scenario is changed now. At present, there are unlimited new designs and trends when it comes to ethnic menswear. Men's clothing is not just buying something monotonous now, but you can make a choice from an exceptional range of styles.
Here is a guide of top men's ethnic wear trends that will keep you updated with all the latest happenings in the men's clothing world.
A white bottom is essential
Safe yet trendy, you can never go wrong with white-colored bottoms. This one color gets along with almost everything in the huge spectrum of colors. White is perfect for bright colors like red and yellow as well as duller ones like cream and grey. When in doubt, choose white.
Jazz up with a dupatta
Many outfits can be rescued with a dupatta. If you think that the overlook look of your ethnic wear is looking boring, then pairing it with a brighter dupatta can make all the difference. If you add a different color dupatta to a bright outfit, then it can make your outfit look striking to the eyes. Dupatta team up well with dhotis, pyjamas and churidars as well.
Go pastel
Basic colors are no more in fashion if you want to wear something that catches everyone's attention. A kurta in red, orange, yellow and blue can definitely look good but these are simply overpowered by pastel colors. Pastels are perfect for you to stand out in a room, considering that the majority of the people wear regular colors.
A dhoti is integral
In the clothing history of India, dhotis have always been popular. You can wear it with a waistcoat to make it look a little modern and trendy. The waistcoat can be plain or printed. It is usually worn with dhotis or churidars. A contrasting waistcoat is ideal for weddings and festivities.
Ethnic prints
A regular mens kurta with a traditional print is in fashion this season. For daily activities, a simple bottom with a printed kurta is comfortable for every guy. This ethnic attire is ideal for guys who are willing to take a break from the regular daily outfits. Out of the box, this look is highly classy and sophisticated.  
When we talk about Indian attires, the best option is to buy a three-piece suit in India. This men's outfit is extremely stylish and classy. It looks sophisticated, refined, and cool- all this at the same time. If you want to update your wardrobe with the latest collection of exclusive suits, then you have infinite choices available online. Along with reflecting your personality, it makes you look absolutely stunning during the parties. Be it any family function or friend's wedding party, wearing three-piece suit is sure to enhance your natural charm. Different aspects are taken into account while designing this attire.
The outfits for men available at Bonsoir are setting fashion trends all over the country. Rich intricate embroideries and other appealing aspects of these attires are sure to leave everyone awestruck. You are going to look incredible and stunning in the offered range of menswear. Moreover, along with high on style, our collection for men is known for being high on comfort as well. These are available in diverse, patterns, styles, and colors for varied requirements. You are sure to love wearing such modern and elegant outfits.