A complete guide to buying Indian Wedding Dresses for Men online!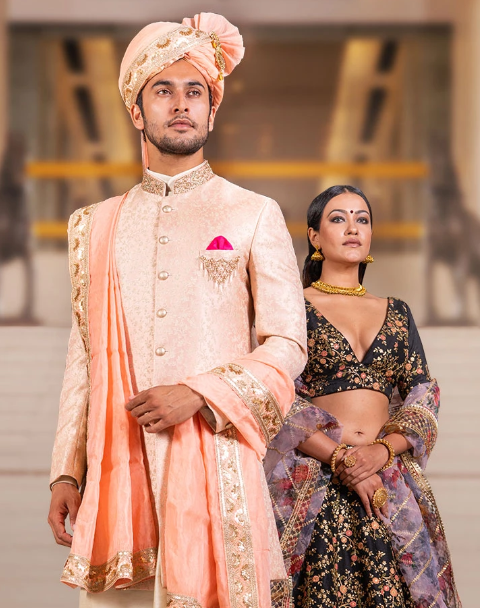 Since the Wedding bells are ringing, you surely would be interested in buying Indian wedding dresses for men. Every man wants to look his best, whether it's his wedding or the wedding of someone close. The pressures of the wedding season can be terrifying but, we can surely promise to help you choose the perfect dress out of this never-ending forest of wedding dress for men. Through this guide, we will let you explore a whole world of online opportunities for buying the perfect Indian Wedding Dress.
Classic Dhoti-Kurta: The perfect and traditional Dhoti Kurta is an evergreen look for the groom that can never go out of style. You can style this outfit with a plain Kurta or even a Sherwani. Dhoti-Kurta also happens to be one of the most enduring Indian wedding dresses for the groom and his groomsmen. The groomsmen can color coordinate their outfits according to the groom's outfit.
Elegant Kurta-Pyjama: A Kurta can be teamed up with a comfortable Pyjama if a dhoti is not what a man is looking for. A choice can be made between a straight-cut or Churidaar Pyjama. There are a lot of ways to style this look, which makes it a versatile attire. A Kurta Pyjama can effortlessly be dressed up to make it a simple attire or a stunning one. The addition of a jacket or a turban can completely embrace the whole look.
Stunning Sherwani: A sherwani is the most loved wedding attire out of all the other wedding attires. It is typically coupled up with a long Dupatta like a stole, a turban, and even beads and chains. A sherwani gives a vibrant and royal look to the groom.
Royal Jodhpuris: The royals of Rajasthan wear Jodhpuri attire on formal occasions. It is very similar to a sherwani. The attire has pants that are not visible above the knees and get tighter as they go down. A Jodhpuri has a more contemporary and fashionable look, as compared to a conventional Sherwani.
Voguish Bandhgalas: A Bandhgala is influenced by Indian heritage and culture. It is one of the most common and preferred choices among all the other traditional wedding wear.This traditional attire emphasizes a closed neck more often with velcro or few buttons at the top. It gives the Bandhgala a neat and perfect look.
You can pick anything out of these great choices and styles. We hope that you make a unique statement at every wedding ceremony you plan to attend!
These outfits will give you that edgy look, and when paired with the right shoes, they are sure to draw everyone's attention towards you and make you the star of the party!
You can buy it online from this link: https://bonsoir.co.in/