The Complete Guide to Party Wear for Men: From Weddings to Black-Tie Events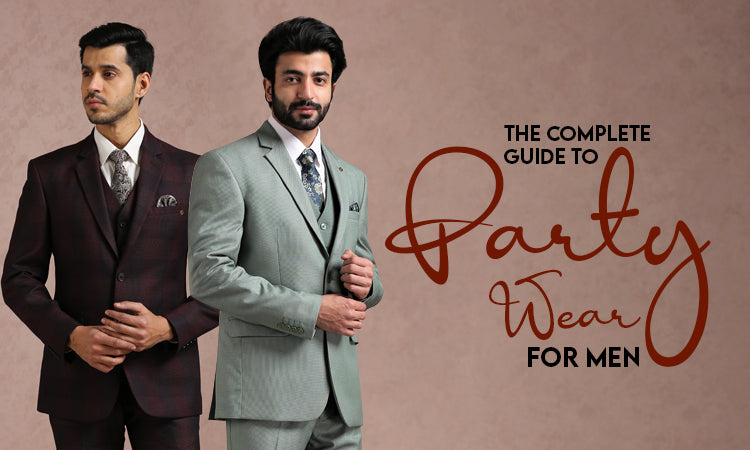 The alternatives of party wear for men may seem restricted, but any man can enhance his formal wear game with a little work and the proper style from Bonsoir. Whether you're going to a wedding or a black-tie affair, it's important to look well and feel good. This comprehensive guide to men's party attire will cover the many styles of men's party suits, the important elements you need, and the best styling advice that is coming straight from their stylish.
Party Wear Suits for Men
The first thing that springs to mind when considering men's party attire is a suit. Finding the ideal one, however, might be difficult given the wide variety of colours and patterns available. Here are the most popular men's party wear suits and the events they work best for:
The most formal of all men's party dress outfits is the black tie suit. It is frequently worn at formal affairs like award ceremonies, galas, and expensive weddings. A black tuxedo with a black jacket, black pants, a black bow tie, and black dress shoes should be worn with the outfit.
White Tie Suit: The most formal attire is the white tie, which is generally worn to state dinners, royal ceremonies, and other formal evening occasions. A black tailcoat, white wing-collared shirt, black pants, black patent leather shoes, and a white bow tie make up a white tie ensemble.
Wedding Suit: Any male attending a wedding should wear a wedding suit. Although there isn't a standard attire for weddings, it's recommended to err on the side of safety and choose a sharp and fashionable suit. The options for men's wear for marriage party can be a safe choice in a grey or navy suit, worn with a fresh white shirt, leather dress shoes, and a matching tie or pocket square.  
Styling Tips for Party Wear
Here are some stylistic suggestions to assist you put everything together now that you are aware of the key items you require:
Fit is Vital: Fit is the most crucial component of any party attire. Make sure your suit has a good fit, with freedom for movement in the shoulders and arms. Your party dress outfit's accessories may really make a statement. To add some personality, think about wearing a well-chosen watch, cufflinks, or a fashionable belt.
Observe the little details A fantastic party wear suit for men is distinguished from a decent one by its details. Make sure your tie or bow tie is straight, your shirt is tucked in, and your shoes are shined.
Don't be afraid to experiment with colour, even though a traditional black or blue suit is usually a good choice. For less formal occasions, a striking blue or green suit may be a standout piece.
Have Confidence: Finally, having confidence is the most crucial party attire advice for men. Your body language and attitude will reflect how confident you feel about your attire, making you the best-dressed man in the room.
In conclusion,
party wear for men
doesn't have to be difficult. You can turn heads and leave a lasting impression on any formal occasion with the correct suit, key accessories, and style advice. Don't be afraid the next time you're invited to a wedding or other formal event. You will have everything you need to look and feel your best with our comprehensive guide to men's party apparel.