6 Stunning Groom Sherwani Looks to Try for Your 2023 Wedding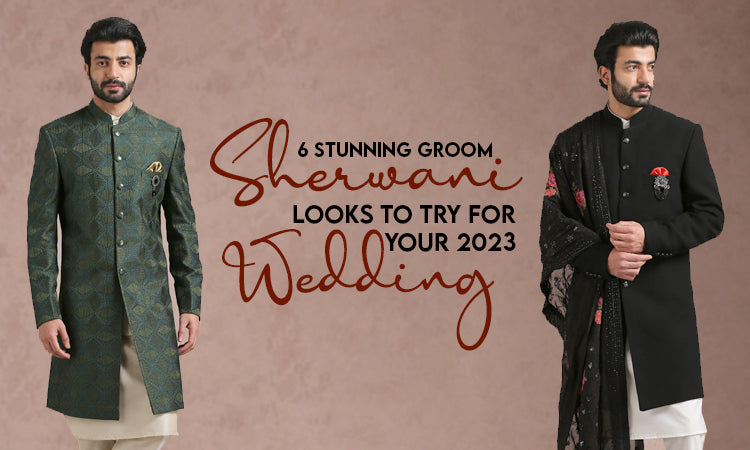 6 Stunning Groom Sherwani Looks to Try for Your 2023 Wedding  
It's time to start planning your groom style for 2023 with wedding season just around the way! Choosing the ideal sherwani may improve your style and make you a stunner on your wedding day, whether you're going for a traditional appearance or something more contemporary. Check out these 6 gorgeous groom sherwani styles to attempt for your wedding in 2023!
Introduction
In Indian weddings, the bride and her stunning lehenga are frequently the centre of attention. What about the groom, though? He should appear exactly as good! Check out these gorgeous groom sherwani ensembles for some styling ideas on your wedding day.
Some of our favourite groom sherwani outfits are listed below:
The traditional sherwani, which has a long coat-like form with elaborate embroidery and decoration. It's ideal for people who wish to seem classic but regal.

Modern sherwani: Choose a slim-fit design with less decorations for a more modern interpretation of the sherwani. Grooms who wish to stand out without going crazy might try this style.

A vibrant sherwani Don't be frightened to try new things. A brightly hued sherwani will make you stand out.
What is a Sherwani?
In Bangladesh, Pakistan, and India, males typically dress in sherwanis. It resembles a kurta and is typically worn with dhoti or churidar pants. Sherwanis were historically solely worn by royalty and nobles and were of North Indian heritage. But in recent years, it has gained increasing acceptance as a wedding attire for grooms.  
6 Different Groom Sherwani for men wedding online in 2023 Weddings:  
The Traditional Groom: A traditional sherwani is the way to choose for the groom who desires a classic look. This time-honoured design is distinguished by elaborate embroidery and beading. It is frequently worn with matching slacks and a dupatta (scarf).
The Modern Groom: For a more modern style, use a modern sherwani. These designs are often less ornamented than their traditional counterparts and can be created from a number of fabrics, including silk, cotton, or linen. They also come in a variety of colours, so you can easily select one to fit your wedding colour scheme.  
The Royal Groom: Choose a royal sherwani for a regal appearance. These sumptuous motifs are embellished heavily with gold thread work and gemstones. They are often worn with equally elaborate pants and dupattas.
The Bollywood Groom: Do you want to feel like a Bollywood celebrity on your wedding day? Then choose for a sherwani influenced by Bollywood! These outlandish designs offer bright colours and patterns, making them ideal for making a statement.
      5.Royal Grandeur: Choose a lavishly embroidered sherwani in gold or silver if you wish to emanate royalty on your wedding day. Wear it with coordinating slacks and a flowing dupatta thrown over your shoulders.
Modern Maharaja: A slim-fit sherwani in a solid hue is a more modern twist on the regal aesthetic. Keep the rest of your outfit basic with few accessories and let the sherwani steal the scene.
Conclusion
It might be difficult to select the right appearance for your wedding day with so many various sherwani alternatives to pick from. With our pick of 6 amazing groom sherwani for men wedding online styles for 2023 wedding style objectives, we hope we have offered some inspiration and reduced your options. Whether you pick a classic embroidered style or a vivid colour, any choice of yours is available at the finest place for dress grooming that is Bonsoir. Visit to Bonsoir website for variety of class.