Kurta pyjamas online in India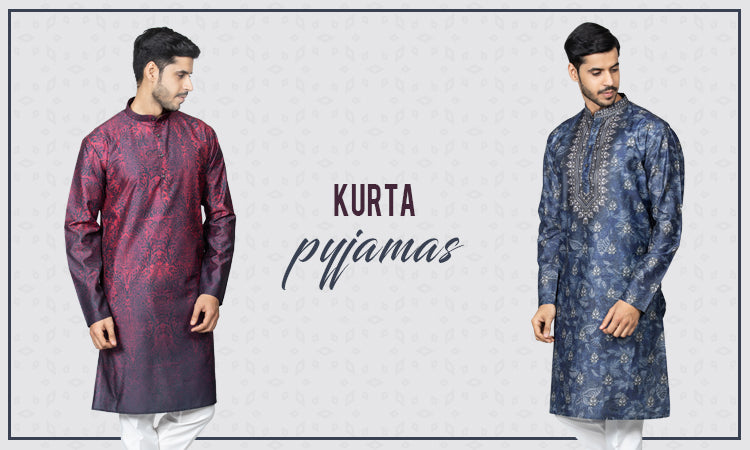 Want to go out of the box then you must choose to go versatile. Kurta pyjama sets are often considered as a unique contender to the game of ethnic dressing as it always aimed to be versatile. Kurta pyjamas get recognized as the must having thing in your wardrobe as it further adds ethnic feeling to your personality and hence uplifting your look and class. 
Kurta Pyjamas even considered as a merger to any occasion, as with its always going nature it helps an individual to extract the ethnicity with a class. 
Looking for a great collection of kurta pyjama, then Bonsoir should be your first choice, Bonsoir is featuring an elegant pile of kurta pyjamas available online in India. Bonsoir's inevitable range of kurta Pyjamas ranging from solid-colored to silk exhibits a sense of comfort and style. 
Solid Coloured: 
 Solid colored kurta pyjamas transform your look and provide you a minimalistic glance. With a more simplistic approach, they are perfect for a house puja or a small ethnic event. 
Pattern or Printed: 
 Patterned or printed kurta pyjamas enhance your personality by adding on to some spices of dressing. Varied patterns allow you to dress simple yet stylish. Grab on to a printed kurta pyjama and get noticed. 
Silk Kurta Pyjamas:  
 Want to go premium and royal with kurta pyjamas then silk kurta pyjamas should be on your list. Silk helps you to show your elegant personality with a sense of confidence. Silk kurta pyjamas are fit for festive celebrations and weddings. 
 Kurta Pyjamas with Nehru Jacket:
Kurta pyjamas are often combined with a wide variety of accessories and jackets. With an increasing trend of Nehru jackets, kurta pyjamas are getting evolved in a cleaner and bolder look. Kurta Pyjamas often paired with the Nehru jackets allows you to dive deep down into the world of royalty and premium. A finely stitched kurta pyjama opens-up your dressing world to another level with embraced class and elegance.