Find the right colors of Kurta Pyjama Before Buying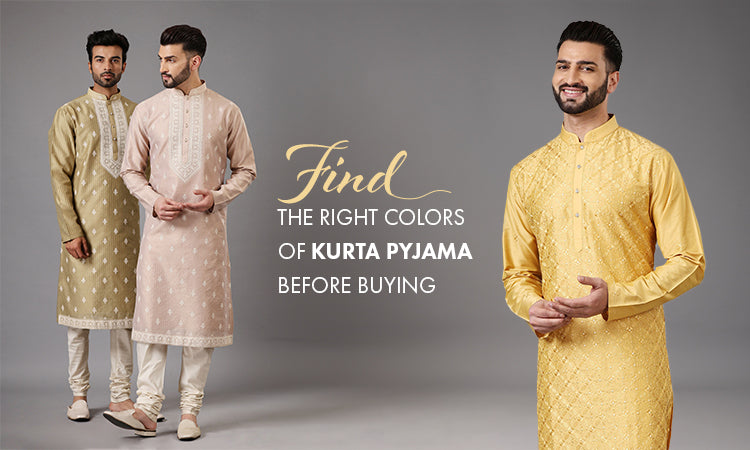 Men's kurta is a Traditional dress which people love to wear on different occasions such as at functions, parties, events and in casual as well. And this dress evolves lots of colors choices with design. So one has to find out the best color which suits on you and it seems pretty graceful when you are about to be apart of any occasion. Wear a dress always which makes highlight among the all crowd. So choose the best color and suitable color whether it's a light or dark shade. 
If you are going to buy a kurta for some particular event then the colors must be light and soothing which shows peace and seems peaceful to others. Besides if you are buying for a festive or wedding season then it must be dark and delightful. 
Here we have share some beautiful shades with you that you can choose for your particular events. It also increase the grace or your wardrobe. 
Select the right colors while buying Kurta Pyjama  
Check the right colors according to the season: finding out the right shades of a kurta according to the season because when we have to get the soothing color that matches with the trend it automatically becomes tricky and tough because there are lots of prints and designs available. 
Colors for summer: choose soft shades always for weaning in summer whether it is casual or at a party like light shades of orange and blue, off-white, white, leafy green, etc. Are the shades that seems best for the summer wedding and make you feel comfortable all the time? You can also check kurta pyjama set online India. 
Colors for winter: here, one needs to choose dark and deep colors such as navy blue, red, maroon, black, royal blue, and relatable colors. These shades provide you with warmth and give you an incredible look. 
Colors for spring: when you are about to buy a kurta for spring weddings, then you can choose light shades of pink, white, off-white, dull or dark shades of lavender, pista shade etc are the most beautiful shades. If these kurtas have little design or work then are considered to be the best.
Check the exact colours as per occasions: blow mention list of colours and trends that makes you look shine among all in the parties, events or at particular occasion: 
Haldi: it's not to tell like always choose yellow color kurta pyjama because it matches the trend and event as well. You can also choose the kurta pyjama set online India. There are large variety of sets available online for haldi functions which offers you an elegant look. 
Mehendi: for the mehendi function you choose the colour dark or light shades of bottle green or darker olive green. Both of the colour suits the function. With a little embroidery, gota, pati, and lace on the kurta gives an extra look. 
Wedding: for wedding purpose, there are no colour boundaries. The thing one has to always keep in mind is to choose a luxurious, royal, and attractive colour. Some of the colour are Red, maroon, golden, and light peach with heavy work on kurta with a draped dupatta which gives you an advance look.  
Reception: it is a formal function where you can wear kurtas of Grey, white, black, or charcoal shade. It offers you a soothing as well as an eye-catching look. Wearing these colour with a graceful kurta makes you classy.  
Hope the above colour classification will help you a lot and you are going to rock on functions. This is very much attractive and proffered shades as per the occasions and seasons. Although you can select the
best kurta Pyjama set online India
 from the
bonsoir
 here we will going you see an amazing collection of kurta pyjama and many other varieties. So do not waste time and choose the best for you.