Elevate Your Appearance with Perfectly Blended Style: Exploring Ethnic Wear Online for Men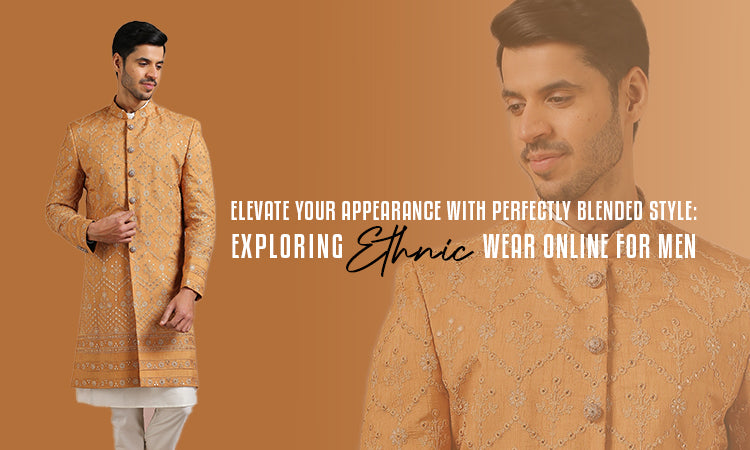 Introduction:
The ideal fusion of style and attire is crucial when it comes to leaving a lasting impression. Men's ethnic wear in India, where traditional clothing has a specific position, offers a mesmerising fusion of class and sophistication. The way men purchase for ethnic clothing has been revolutionised by online marketplaces like Bonsoir, which provide a wide variety of solutions that subtly improve their image. In this essay, we explore the world of ethnic clothes, emphasising how the ideal fusion of fashion may improve your entire appearance and have a long-lasting effect.
Embracing Traditional Silhouettes: Traditional silhouettes that have lasted the test of time are widely represented in ethnic dress. Each piece of clothing, from royal sherwanis and traditional kurta pyjamas to dashing bandh galas and fashionable Nehru jackets, has a distinct appeal. Men may explore and select from an enormous choice of classic shapes that suit their particular style and the occasion thanks to online platforms like Bonsoir, which create a diverse inventory.
High-quality materials and workmanship the workmanship and attention to detail are two characteristics that set ethnic clothing apart. Ethnic clothing is frequently made from expensive materials that express luxury and grandeur, such as silk, brocade, linen, and velvet. The clothing in Bonsoir's online range is expertly cut and composed of premium materials for a great fit and exceptional comfort. The elaborate handwork, decorations, and embroidery further improve the clothing's overall visual appeal.
blend of Traditional and Contemporary components: Ethnic clothing has adopted a blend of traditional and contemporary components to appeal to the changing tastes and preferences of modern men. Modern cuts, colours, and style are expertly incorporated into traditional themes, prints, and patterns by Bonsoir designers. This mix creates clothes that are appropriate for both traditional rituals and modern gatherings because they achieve the ideal balance between cultural heritage and modern fashion.
Personalised Styling alternatives: Men may express their unique sense of style and individuality via a range of ethnic wear styling alternatives. Men may pick the appropriate outfit for various events with the assistance of Bonsoir's online platform, which offers personalised style guidance and suggestions. Choosing the ideal colour scheme, accessorising with striking items, or using various draping techniques, Men are confidently able to display charm and refinement in their ethnic clothing thanks to personalised styling advice.
Versatility for Different events: Wearing ethnic clothing is no longer just for weddings and other special events. These costumes' adaptability enables men to present themselves in a fashionable manner at a variety of occasions, including social gatherings, formal occasions, and even everyday trips. With the collection from Bonsoir, men can easily include traditional pieces into their regular wardrobe and choose from a wide variety of ethnic wear alternatives ideal for various situations.
Convenience of Online Shopping: The development of online marketplaces has completely changed how men buy for ethnic clothing. Men may browse through a variety of ethnic apparel at their convenience thanks to Bonsoir's user-friendly website, which offers a seamless buying experience. Men may make educated judgements and locate the ideal outfit without having to trouble with several store visits thanks to internet shopping's comprehensive product descriptions, sizing charts, and high-resolution photographs.
Using Ethnic Clothing to Make a Fashion Statement: Ethnic clothing has expanded beyond its conventional limitations in recent years and is now considered a fashion statement in and of itself. Men are adopting ethnic clothing more often as an expression of their individual style, cultural pride, and avant-garde tastes. Men may now experiment more easily than ever with various styles, colours, and designs to make original fashion statements that are sure to draw attention thanks to the availability of ethnic clothing online.
Conclusion:
Ethnic wear for men has developed into an alluring fusion of heritage and style, providing a wide range of possibilities to improve one's look. Online marketplaces like Bonsoir have made ethnic apparel widely available, practical, and adaptable for men throughout India. Bonsoir has succeeded in bridging the gap between conventional wear and modern fashion by compiling a varied assortment of expertly designed outfits.
Men may show their uniqueness, cultural history, and fashion-forward tastes via ethnic wear's flawless mixing of style. Men leave a memorable impression at numerous events, including weddings, social gatherings, and formal events because to the superb materials, delicate craftsmanship, and individualised styling possibilities. The ease of online buying allows men to easily browse and select from a wide range of ethnic wear options from the comfort of their homes.