Buying V/S Renting A Suit: Which One Is Better For You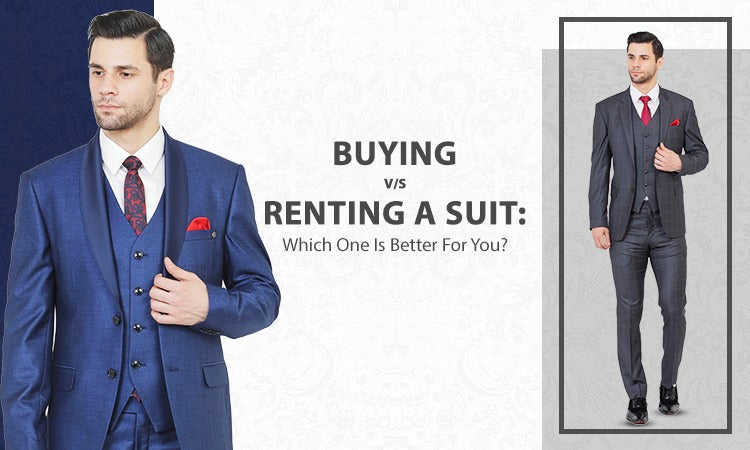 Buying an outfit comes with a series of commitments. An outfit demands care and maintenance, negligence of which becomes imperative when you lack time to spare. That's when Renting comes to rescue!
For some men, donning a suit is an everyday call. Be it an elite gathering or a business conference, the suit is a crucial attire. For such men, a closet flooded with tuxedo might make sense. For others, however, an encounter with a suit happens only once in a blue moon and as soon as the occasion comes to an end, the suit gets tucked in the back of the closet only to collect dust. The question of relevance here is - should you be buying a suit when it's meant to be for a one-time wear?
 When To Rent?
 Unless you're a regular suit-dresser often attending upscale events, renting is always the way to go. We often make the mistake of buying something in a specific color and style for a particular event which soon fails to fit in with other occasions. Renting saves you from trouble. Renting helps you in making an investment destined to fulfill your current short-lived requirements without being hard on your pockets.
Apart from the frequency of usage, other things to keep in mind while considering to rent is if you wish to go unique for once. We often want to explore bold options which may look out of place once the surrounding and the purpose changes. Unless you're an avid collector, it's probably better to rent suits in such styles that you're not sure to keep wearing in the long run.
 When To Buy?
Suits are the ultimate currency of elegance. Hence, buying one makes sense when your calendar is full of formal gatherings demanding you to add it to your closet. Also, for those who wish to invest in a versatile style, a classic black tuxedo never goes out of fashion. Other evergreen hues like Blue and Grey should top your list. A little care is all it takes, and these suits will keep adding extra charm to your persona for years.
If you have a flair for eccentricity, it's a good call to buy men suits  and open room for customization. Some men with exquisite choices often have trouble finding the right style and fit. That's when making a purchase is worth it. 
Suits Can Make You Steal The Limelight
A thoughtfully designed suit crafted with the finest textiles and the perfect tint of style and comfort always makes heads turn. Whether you buy a suit or decide to rent it, make sure you invest in a well-fitted garment. For now or for keeps, your choice only pays off when every inch of the fabric unveils magnificence. An intricately stitched suit that oozes with precision can make your personality go from bland to buzz-worthy.