Best Occasions to Wear Indo Western Outfits for Men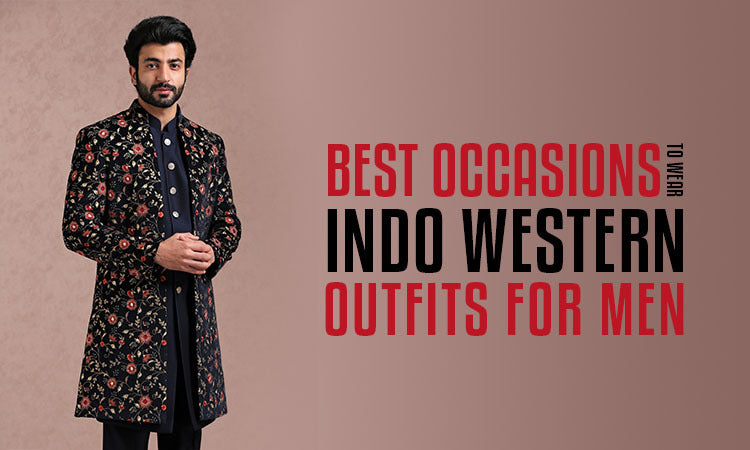 Best Occasions to Wear Indo Western Outfits for Men: Weddings, Parties, and Festivals
Indo-Western clothing for males has been incredibly fashionable recently. These clothes are a flawless mixture of traditional and western fashions, making them adaptable and appropriate for a variety of settings. Here are some of the greatest situations to take into account if you're wondering when it's suitable to dress in an Indo-Western outfit:
Weddings
Whether you're the groom, best man, or just a guest, this fusion attire is a good choice. These clothes are ideal for enhancing your overall appearance with a dash of class and charm. For a stylish yet traditional look, use a well-tailored Indo-Western suit or a jacket with a kurta and churidar.
Parties
This type of attire is a fantastic choice for social events and parties. Wearing an Indo-Western dress can make you stand out at cocktail parties, birthday parties, and formal events. You can choose to wear a patterned shirt and chinos for a more laid-back appearance or a well-tailored suit and Nehru jacket for a more formal occasion.
Festivals
Indian festivals are all about embracing heritage and sharing a joyful occasion with close friends and family. For seasonal events like Diwali, Holi, or Eid, and Indian western mix dress may be the ideal option. You can play around with different looks and materials, such as pairing a silk kurta with a denim jacket or a patterned shirt with Nehru jacket and trousers.
Business Meetings
This can be a great option if you're looking for a chic and contemporary look for a business meeting or conference. You can create a good impression and still look professional by wearing a well-tailored Indo-Western suit with a fashionable tie.
When choosing an Indo-Western suit, the proper fabric is crucial. Indo western outifts for men, fabrics including silk, cotton, linen, and velvet are common choices. You can select a fabric that matches your sense of style and level of comfort based on the situation and your own preferences.
The colour and design should be taken into account when choosing this kind of clothes. While traditional Indian clothing is frequently bright and colourful, Indo-Western clothing is typically more muted and subtle. For a more formal setting, neutral hues like black, grey, and navy are excellent alternatives, while vibrant hues like red, green, and yellow can lend a splash of colour to your outfit.
Your western and Indian fusion suit must also include the right accessories. Depending on the situation, you can dress up your ensemble with a pocket square, a fashionable tie, a statement watch, or a set of cufflinks. Make sure the accessories you choose enhance rather than distract from the overall look of your clothing.
When wearing this, there are many different footwear alternatives to consider. Wearing traditional Indian shoes like mojdis or jutti, which can be embroidered and adorned to match your clothing, is appropriate for a more formal setting. Choose loafers or dress shoes in the same colour as your suit for a more contemporary look.
They are an excellent option for a variety of events, including weddings, parties, and festivals. You may create a distinctive and stylish style that is sure to attract attention by choosing the proper fabric, colour, and accessories. Always choose an outfit that is appropriate for the situation, and more importantly, make sure you feel good in it.
In conclusion, Indo-Western outfits for men is adaptable and stylish for a variety of occasions. These clothes can help you stand out from the crowd while embracing traditional and modern styles at weddings and festivals. Be careful to take the occasion, your personal style, and the appropriate level of formality into account when selecting Indo-Western attire. You can feel and look your best on any occasion with the correct attire.