Find the perfect Ethnic Fusion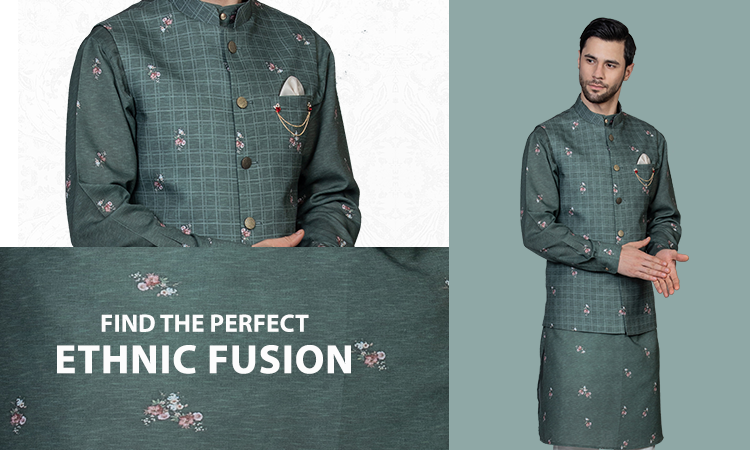 Tofu tacos are not Mexican. Putting tofu on anything and calling it Mexican is an insult to its ethnicity. This is the same case with clothes, what are you pairing with what is an art as far as ethnicity is concerned. If fusions exist then you should answer this question of how your selections can be moulded in a smart and versatile look without compromising the ethnicity. Wearing Indian Ethnic clothes is the best way to get noticed for your dressing sense and looks. What to choose let's see.
Types of Ethnic Wears:
Kurta Suits:
No wedding or cultural celebration is possible without solid coloured kurta suits. It adds ethnic feeling to your personality. Kurta suits have been considered as a first choice especially in North India for house poojas, weddings, or during any cultural event. This traditional outfit helps you to merge and enjoy the ethnicity of Indian Culture with a sense of comfort.
Sherwanis:
Inspired by the ancient Indian kings, Sherwani embraced your look with royalty and premium. This highly embroidered premium outfit is a must-go choice for the groom.
Indo Western:
A Typical Indo western outfit is a fusion of western and Indian spectrum. With a classy and royal look, an Indo western dress is most suited for engagements and weddings.
Nehru Jackets:
A Nehru Jacket is like a waistcoat with embraced Indian ethnicity. A Nehru jacket often worn with a rose in pocket complimenting your look and personality. A Nehru jacket can be paired with kurta suits and a solid coloured shirt.
Dhoti Kurta:
Dhoti kurta is one of the classic and traditional outfits, which consists of a silk or cotton kurta with embroidery on the collar and borders paired with a dhoti of the same pattern or colour as kurta. A pair of juttis are always welcome, uplifting your look and feel of your outfit.