The Charm of the Bandhgala Suit: Enduring Style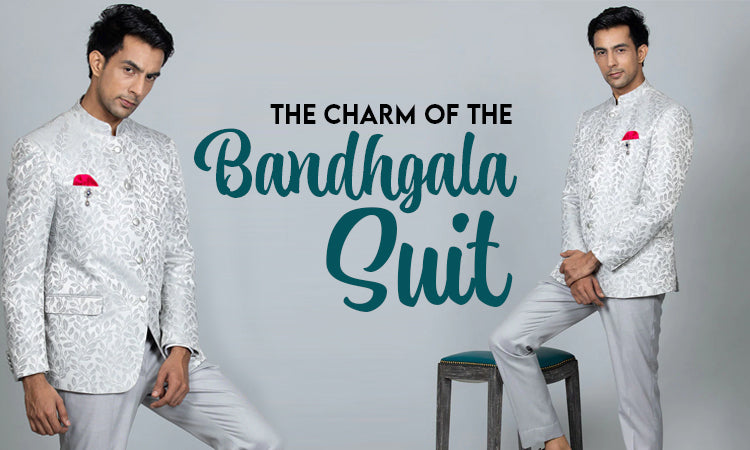 One can never go wrong with wearing a bandhgala outfit when it comes to wearing traditional Indian clothing. This type of suit commonly referred to as the Nehru jacket has long been a preferred option for men's formal attire. It is an essential piece for every man's wardrobe because of its adaptability and timeless style.  
The Indian-born Bandhgala suit is a type of garment that has gained popularity all over the world. It is sometimes referred to as a Nehru jacket after Jawaharlal Nehru, the first Prime Minister of India, who frequently wore this kind of jacket. A formal outfit that is ideal for weddings, parties, and other formal occasions is the bandhgala suit. It can be worn with pants or even with traditional Indian clothing like a dhoti or pyjama. It has a high collar and a button-up front.  
The Bandhgala suit's adaptability is one of the factors contributing to its popularity. In accordance with the situation, it can be dressed up or down. For a more relaxed approach, pair it with a t-shirt instead of a tie for a formal occasion. The fact that it can be worn for a multitude of events makes it a terrific investment for any man's wardrobe.
The Bandhgala suit is also well-liked for its classic style. It is a timeless item of apparel that has been around for a long time and will remain in style in the future. It is resistant to fads in fashion and is timeless enough to be worn for many years.  
There are a few considerations to make whether you're planning to buy a bandhgala suit for men, for yourself, or as a gift :  
it's crucial to pick a suit that fits you well. The sleeves of a Bandhgala suit should stop just above the wrist, fitting snugly across the shoulders and chest. The jacket should be slightly below the waist in length, and the pants should be fitting but not too snug. Before settling on a certain size and style, it is a good idea to try on a few different options.  
It is also important to pick a  reputable store that sells fine suits while looking for a Bandhgala outfit. Choose Bonsior as they have a solid reputation and a large assortment of suits. Asking for suggestions from friends or family who have previously acquired Bandhgala outfits is not something to be afraid of.  
The occasion and formality of the ceremony should also be taken into account. For a formal event like a wedding or business conference, a plain, one-color Buy Bandhgala suit for men is ideal. A patterned or printed jacket can be a terrific choice for a more laid-back occasion. Making the appropriate fabric selection for the suit is also crucial. A woolen outfit is appropriate for cooler weather, while a silk or cotton Bandhgala suit is perfect for a summer function.
Modern variants of the traditional Bandhgala outfit are widely available. A Bandhgala suit with a western-inspired cut and pattern is one example that is gaining popularity. These suits are more current and contemporary since they are slimmer cut and more fitting.  
 In Conclusion, a Bandhgala suit is a vintage and functional article of apparel that every guy needs in his closet. Although it looks great dressed down for a more casual approach, it is ideal for formal occasions. The event's formality, the occasion, and the suit's fabric should all be taken into account when buying a Bandhgala suit for men A trustworthy retailer should be used, and the suit should be customised to achieve a flawless fit. You will appear and feel smart and confident at any function with a well-fitted Bandhgala suit.